Executing on a successful product launch is essential for starting your product off with a bang and improving upon your product's perception. You can manufacture and create buzz about your product through a successful product launch, thus attracting more affiliates and improving your product's conversion rate. In this article we're going to address how to launch a product online with 8 effective strategies.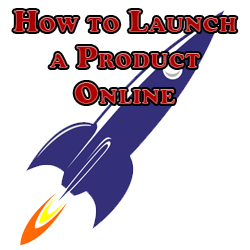 How to Launch a Product Online
The Countdown
Creating a countdown for your product is a great way to create buzz. Make sure that when you're using the following traffic methods that in the weeks leading up the official launch that you're revealing more and more information about your product and reminding them about the countdown/launch date.
Whenever someone sees that there is a countdown associated with a product launch, the implication is that this is something worth waiting for and following along. It substantially increases the perceived value of your product to no matter who reads about it, so create your release date and let the countdown begin.
Email Marketing
Email marketing is your best friend when it comes to launching a new product. I'm not just talking about interacting with your own list, but pursuing a solo mailing or ad swap is a great way to reach an entirely new and targeted audience, particularly when you're ready to launch a new product.
Write up a very attractive sales pitch for your new product and pay to blast that offer out to someone else's sizable list or swap lists with someone in exchange for mailing your list about that other webmaster's offer. You can do this either to potential customers of your product or to potential affiliates of your product.
Forum Marketing
Hit up influential blogs in your niche and use them to build the buzz on your product. Put information about your product launch in your signature/profile information and keep it updated to reflect the countdown to your product's actual launch date.
PR Sites
PR sites are an obvious choice whenever you want to promote anything new. This gets the word out about your product and can help to spread some buzz as people see and share that press release. Check out this post on writing a press release for your site and my 10 press release tips or even my own personal press release example for ConvertingCopy.com.
Online Advertising
Adwords, Facebook Ads, and similar advertising networks are great ways to reach targeted audiences to promote your product to. Facebook Ads specifically enables you to get ridiculously targeted to find your exact customer base so that you don't waste a penny in advertising costs without converting on that traffic. Check out my posts on my Facebook advertising strategy and Google Adwords tips for more information.
Deal Sites
Heard of sites like Groupon and Living Social? Millions of people regularly peruse these sites looking for deals on interesting products and services. If your offer can be presented at a special discount tier, these sites can be a gold mine for getting lots of opting in customers.
Guest Blogging
Guest blogging is a great way to look like an authority on a particular topic and build credibility so that people will be more inclined to check out and purchase or promote your product. Convince (or pay) another webmaster in your niche to let you hop on their blog and make your own informational post one day which relates to your product, then sneak in info about the launch.
Affiliates
Affiliates are the lifeblood of any successful product launch. Whenever you're using any of the above traffic sources that you mention about the affiliate program to go along with your product. Check out my post on how to get affiliates for more information on how to do just that.