Press release marketing is another invaluable source of traffic which you can't overlook as it brings in both traffic and link juice. Writing a press release is somewhat of an art and publicists and other PR people painstakingly invest a great deal of time getting the copy just right.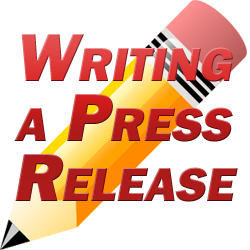 Writing a Press Release
The purpose of writing a press release from a webmaster stand point is to acquaint people with your website, letting them know what it is that you do and why they need to care about you. You can use a press release as a forum for promoting a product if you have one, as well.
When writing a press release, make sure that you have something worth writing about. Even the most mundane website niches can be presented as such if you put a little thought into it.
I'm going to address the essential press release tips to keep in mind when writing a press release tomorrow, but for now you can take a look at this press release example which I drafted for ConvertingCopy.com by clicking this link for press release example.
While this example was for ConvertingCopy.com itself, in the following days I can go about writing a press release for my free 10 Day Fast Track Affiliate Course, as well, or perhaps one on my free Complete Email Marketing Blueprint eBook.
Press Release Submission
There are plenty of free sites for press release submission as well as a lot of premium ones. Generally the difference between the free and paid options is that the premium options give you more features such as being able to use video, images, and anchor text which can be worth it if the press release submission site is of a high PR and authority.
http://www.freepressrelease.com/
This is a good site to submit your first press release to. It is run by WordPress, so you actually create your own login name and password as a guest author through their WordPress page, then you make your press release submission just as if you were writing a post on your own blog within WordPress.
http://www.free-press-release.com/
Note that this is a different site from the first site. It's also free but it offers a premium option where you can include video, anchor text, and a few other features. The format of this site is more like an article directory when it comes to submitting. Whenever I submit a free press release submission here, they track how many views you get to your press release and I'll typically find that I'll get a few dozen views in the first couple of hours alone; so it's definitely worth your time.
Getting indexed on PRWeb can get you a great deal of powerful link juice to your site. It's pricey, but it is definitely a wise investment for your site and should pay you back if you've monetized your site correctly.
There are plenty of other free and premium press release sites, so do a quick Google search to find more options. Again, in a couple of days I'll give you press release tips for writing the perfect press release.