Hey all, Paul here. Just wanted to let you know that my new comprehensive online marketing eBook: "The Complete Online Marketing Bible" is now available exclusively right here for just $19.99. That's right, for just $19.99, you can learn everything it takes to succeed in all things online marketing.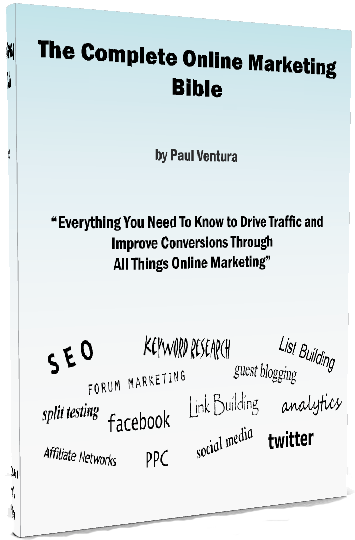 I cut the fluff and trimmed it down to the bare essentials at just over 100 pages. Here is a screenshot on the right of the table of contents so that you can see what works in today's world of online marketing:
After I give you a bit of background on myself and get a little information for affiliate marketers out of the way, we jump into:
How to Create a Google Friendly Website for Free (Minus the Cost of Domain+Hosting)
How to Perform Good Keyword Research to Find the Best Keywords to Target (Based on Relevance, Search Volume, Competition, and Commerciality)
How to Optimize Your Website On AND Off Site for the Search Engines
How to Get a Local Business to Rank
How to Promote Your Site and Get Traffic Through a Number of Sources Including Social Networks, and How to Build Google Friendly Links (Yes, They Exist)
How to Promote Your Site Via Paid Advertising, Achieving the Lowest Possible Cost Per Click
How to Monitor and Analyze Your Site's Traffic and Create Goals Using Google Analytics
A Whole Chapter Devoted to Giving You a Better Idea of What is Working (and What Isn't) Specifically in 2014 and Why/How That Idea Has Evolved
How to Write Sales Driven Copy in Everything You Do On and Off Your Site to Generate More Conversions on Your Goals
A Couple of Bonus Chapters Devoted to Marketing Tricks You May Not Have Thought of and Tips to Keep Yourself Motivated and Productive
And Finally a Glossary to Cover All of the Typical Online Marketing Terms and What They Mean
Check it out today and skip 10+ years of learning what works and what doesn't work through trial and error like I did in all things online marketing and take the fast track with this comprehensive online marketing eBook for the low price of just $19.99 (includes 30 day full money back guarantee).