We're going to talk about how to do guest blogging today given how invaluable it can be for everyone involved. Guest blogging has become very popular in this blogging age of the internet because it benefits both the blog owner as well as the guest poster. The blog owner gets great content on their blog without having to write it themselves, the guest blogger gets their name and content in front of a brand new audience, and both get to network with someone new within their niche.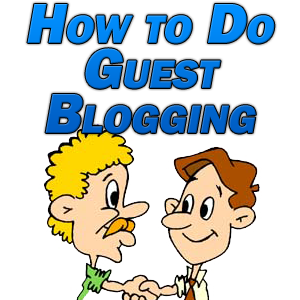 It's much easier to get people to check out your site when guest blogging as opposed to just commenting because you're already seen as an authority just by virtue of that webmaster allowing you to post on their blog.
Some of the larger guest blogs exclusively do guest blogging. If this is the case then they will have a system for contacting them which you should go through. They might ask for a sample, what you plan on writing about, your credentials/experience, etc. The point is that for these larger guest blogs it is generally simple enough to figure out how to go about guest blogging.
How to Do Guest Blogging
If you're more interested in guest blogging for a blog which is likely run and maintained by just one person and networking with them, it's a different approach.
A good way to get started with guest blogging is to obviously first find the blog which you want to post for. Start commenting on their posts on a regular basis with good blog comments. This lets that blogger know that you know your stuff and puts you on their radar.
After a few days of doing this, contact that blog owner and tell them that you have got a post on the latest and hottest trending topic right now as it relates to your mutual niche. Rather than simply telling them about the post, send your article attached if possible, as well.
Don't give them a chance to put you on the back burner while you wait to hear if they would be interested in that topic while they probably forget that you contacted them in the first place.
By sending the article attached when you contact them initially, they see that you're a great writer who has written a great post, and it's ready RIGHT NOW; thus making their life as easy as possible.
While they may pass on that particular post, they may ask you to write about something else for them if they like you're writing. Over time you can develop a better relationship with that blog owner and further opportunities for guest blogging will present themselves and you may get to the point where you're doing joint ventures together, ad swaps; really just enjoying the many benefits of networking.
Finally, you can also check out resources like My Blog Guest which is a free site dedicated to connecting bloggers looking to guest blog with each other. You fill out your profile information to let people know the focus of your site and you can even enable other bloggers to submit their potential articles to your dashboard as drafts if you like, or they can just contact you through the service.