I've long been a Hootsuite guy when it comes to scheduling and managing my social media because of their clean and easy to use interface and plethora of features. If you use it, as well, you'll know that their free plan is disappearing practically as I write this. With the cheapest plan starting at $99 a month, I decided it was time to find some free Hootsuite alternatives and pick the best one to suit my needs.
I narrowed it down to a list of 6 great and more importantly free Hootsuite alternatives. I'm going to cover each one individually as they all have their pluses and minuses, so let's get into it!
Free Hootsuite Alternatives

Buffer is the first of these free Hootsuite alternatives but it should be mentioned that their free service has quite a few limitations.
I've found that Buffer is a great option if you need to schedule content with a decent selection of social networks.
Here are the social networks covered: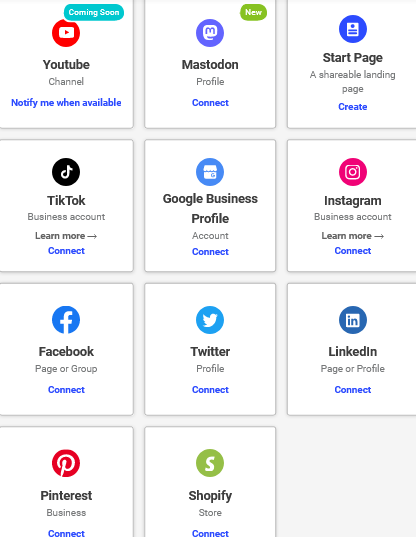 They limit you to three social networks on the free plan, but you can always create a second free account (with a second browser open) if you need more than that.
The interface for adding a new post is very similar to Hootsuite's and a subtle but appreciated feature is that if you begin typing an @ symbol and letters, it will prompt you with other account suggestions. This makes it great for mentioning other accounts in your posts.
The main limitation is that this is primarily a post scheduler or publisher. If you want analytics on your posts or a feed/stream to say reply to comments on your posts or mentions, you'll have to use the social networks themselves.
Pros
10 Scheduled Posts Per Network at a Time
Duplicate Post to Multiple Networks at Once
Plenty of Social Networks Covered
Scheduling Interface Very Similar to Hootsuite (Meaning it's Good)
Cons
No Analytics, Feed/Stream Access With Free Plan

Later and Buffer have a lot in common which is why they're frequently compared to one another. Like with Buffer, they limit you 10 posts per network to schedule in advance. One major area where Later falls short is that you get 10 for the entire month per network.
So once you schedule 10 tweets on Twitter for example, you're done for the month. With Buffer, as long as you have less than 10 tweets currently scheduled, you can always add more. For people who schedule a lot of social posts, this won't work.
The scheduling interface doesn't have the helpful features I mentioned with Buffer, including the posting to two different networks at once, or pop up suggestions for accounts you want to include.
Still, they have a small advantage over Buffer on Later in that you get some basic analytics to see how your social posts are performing.
The number of networks which work with Later is more slight than with Buffer:

That's Instagram, Facebook, Twitter, Pinterest, TikTok, and LinkedIn to be clear.
Also like Buffer, you don't have access to a feed/stream to engage with those who have engaged with your posts.
Pros
Major Social Networks Covered
Limited Analytics Included
Cons
10 Scheduled Posts Per Network A MONTH
Interface Not as Feature Rich as Buffer
Simplified is a suite of different content creation tools with social media management being one of them. Their free plan sits in between Buffer and Later for me for a few reasons. They offer the ability to attach three networks at once per the free account and 10 scheduled posts at a time similar to Buffer.
Regarding the accounts, there's a Buffer comparable offering: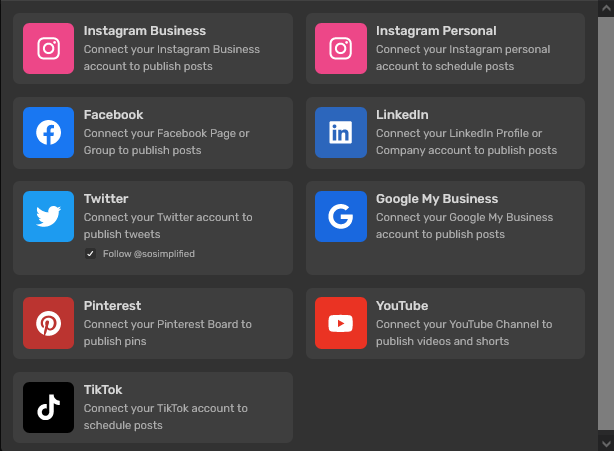 This hits a lot of the major networks. Simplified actually features a slight improvement in the creation interface in that you can create a post for all three selected social networks in your profile at once, then tweak each one individually.
There's even an option to stagger your posts if you're ready to post the same or a similar message to multiple networks at once at the same time so that it looks less robotic:

I was disappointed that beginning with the @ symbol only worked with Twitter, making it more difficult to mention or link to another page on Facebook.
The calendar also shows national and international holidays (some very obscure ones). Clicking on one of them allows you to get some relevant hashtags or work off of templates so you can piggyback on the relevance of whatever day it happens to be that day and possibly pick up some more followers with minimal effort.
Otherwise it's very similar to the aforementioned services in that there's little to no analytics or engagement without a paid tier.
Pros
10 Scheduled Posts Per Network at a Time
Major Social Networks Covered
Calendar and Stagger Features Are Nice Bonuses
Cons
No Analytics or Engagement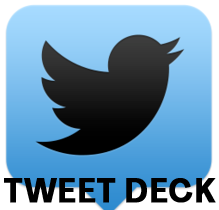 TweetDeck is the best choice if you're only using Twitter as it has all of the features you want with the ability to schedule as many tweets as you want in advance and keep track of them all.
Its interface is completely customizable in that you can adjust the columns to display whatever content you want. It's nothing flashy, but if all you use is Twitter or if you use it alongside other networks and you don't mind having multiple tabs open at once to schedule everything in concert with one another, it's a solid way to go.
Pros
Cons
Only for Twitter (Obviously)

Formerly Facebook Creator Studio (although technically it's an updated version and FCS still exists), Meta Business Suite is essentially Facebook and Instagram's version of TweetDeck.
You can schedule Facebook and Instagram posts in advance, check analytics, interact with any engagement your content receives, and the interface is intuitive.
Pros
Covers Both Facebook and Instagram
Analytics and Engagement are Included
Cons
Limited to Both Facebook and Instagram (Obviously)

Lastly, we come to what was genuinely the final social media managing service and free Hootsuite alternative I tried, and for a few weeks it turned out to be the best: Social Champ.
Social Champ ticks a lot of boxes in being a nice replacement for Hootsuite, so I'll just list it as its pros here:
NO Limit to Scheduling Posts
Versatile and Feature Rich Posting Interface
Decent Analytics Reports on Your Posts' Performance
An Included Engagement Tab for Replying to Messages
Lots of Social Networks to Choose From, Including:

It's a lot like Buffer in terms of the posting interface but without the restrictions and with the added features of analytics and engagement.
As I said, I DID have this listed as my favorite for the month I was using it.
What changed?
Twitter recently began charging for 3rd party API access, meaning that if services like every one I mentioned in this article want to include Twitter functionality, then it would cost them thousands in a monthly access fee.
Not surprisingly, Social Champ passed that cost on to its users to the point that Twitter is no longer included in their free plan. It's a shame as I really do like their service, but as far as free Hootsuite alternatives go, I can't recommend it.
As such, I now recommend either Buffer or Simplified as the best free options for managing your social media.
I'll keep this list of free Hootsuite alternatives up to date as it's always possible that these other services will change their terms for free users to reflect the change that Social Champ made.