The cornerstone to any good online (or offline) business is an email list. A thriving list which is rife with subscribers is a great way to have a chance to remain in touch with otherwise one off visitors to your site, sell through an autoresponder, and develop relationships with your subscribers to make them your most valuable customers.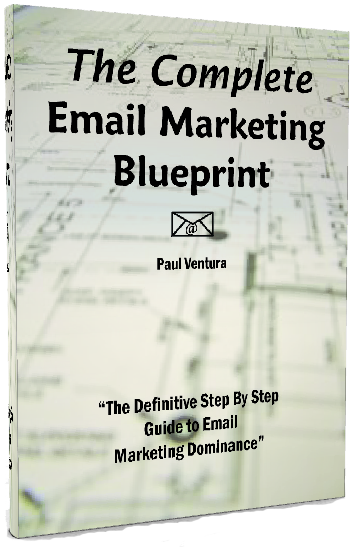 Because it's so invaluable, I've put together a complete email marketing eBook resource entitled "The Complete Email Marketing Blueprint".
Here is what is covered in "The Complete Email Marketing Blueprint":
Chapter 1 – Choosing Your Email Marketing Company
Chapter 2 – Setting Up a Welcome Message/Autoresponder
Chapter 3 – How to Get Subscribers
Chapter 4 – How to Use Email List Segments
Chapter 5 – Personalized Email Marketing
Chapter 6 – How to Use Pop Ups
Chapter 7 – A Clean Email List is a Happy List Owner
Chapter 8 – Using Double Opt In Versus Not
Chapter 9 – Why Is My Email Spam?
Chapter 10 – The Four "C's"
You can now purchase my updated authority email marketing eBook: "The Complete Email Marketing Blueprint" which comes with a complete 30 day no risk money back guarantee for just $9.99: