Focus on just listing your product on one affiliate network because as I mentioned in my post on what is the best affiliate network, having multiple affiliate networks will turn off your affiliates. You can check out that post for the full explanation as to why but right now let's talk more about how to get affiliates.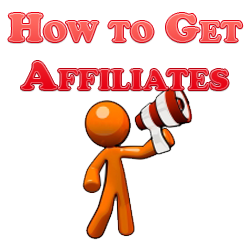 How to Get Affiliates
Affiliate Network – The first place you're going to look to attract affiliates is on the affiliate network which your product is listed in first itself. There are always affiliates searching these marketplaces, looking for products to promote and make money from, so choose and write the description for your product wisely as this can make or break an affiliate's decision to promote your product or not.
In your description mention any impressive stats your product is boasting (low refund rate, high conversion rate), why your niche is worth promoting, and what makes your product the best in its niche. Basically you're making a case for why someone would want to promote your product specifically above all others and all that that entails.
Your Competition – Your niche likely already has some established products which affiliates are already currently promoting. Do a search for that product in Google and besides the product's sales page itself you'll likely find a number of affiliate promotion and review sites for that product also ranking well in the SERPs.
Contact those webmasters via their sites and let them know about your product, point out why it's superior to what they're currently promoting, and maybe even offer them some incentives to promote your product like an introductory 100% commission on their first 10 sales or something along those lines.
Your Sales Page – If someone is familiar with your product and wants to sell it, they'll likely check the product's page itself; therefore make sure you have a visible link somewhere on your sales page marked "affiliates", "webmasters", "sell 'product name'", or something else of the like which will take them to a page on that site with details on how they can promote your product. On this page, remember:
To mention how much of a commission percentage your affiliates earn per sale and how much that translates into per sale.
That if you're selling through an affiliate network like DigiResults which pays affiliates instantly, meaning as soon as the sale is logged, prominently showcase this fact as that will turn a lot of heads.
List affiliate marketing tools which you can offer to your affiliates to make their job easier when promoting your product.
Affiliate Network Advertising – You can pay to place ads in different places to drum up affiliate support, as well. The best place to advertise is on affiliate networks themselves because these are the prime locations and hubs for where you know you'll find people who advertise affiliate products for a living.
Affiliate networks are good places to place ads for your product because unless your product is selling extremely well or is leading an analytical category, many affiliates won't find your product unless they're actively searching for your niche themselves. By placing advertising on an affiliate network for your product, your ad will appear when affiliates of that network are logging into their account, for example.
Email Advertising – A solo mailing is a great way to drum up affiliate support very quickly if you know of a webmaster in the affiliate marketing niche with a nice subscriber base. Presumably anyone signed up for their mailing list will want to hear about hot affiliate offers to promote, so use the same language when writing this email as you would for your product's description on the affiliate network itself (making sure to include any information they need to know or special offers you've got going on for affiliates, as well) and pay that webmaster to blast your email to their list.
Now that you've got some affiliate interest in your product, check back tomorrow for a relevant and important post on how to screen affiliates to make sure you've got only the best affiliates promoting your products.