Page rank is one of those enigmatic stats which a lot of webmasters don't understand how it works, how it's calculated, what it means, or how much emphasis should be placed on it.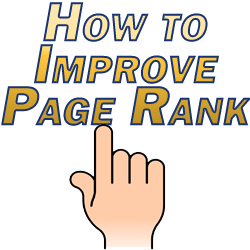 Google came up with the page rank system as a numerical metric of quality and relevance for a web page on a scale of 0-10 with 10 being the highest you can achieve. Technically you can't achieve a PR of 10 as that's saved for Google themselves. I suppose Google thinks they're the most important website in the world and because they came up with the page rank system they can rate themselves however they like.
What's My Page Rank?
You can check your page rank through a number of methods. One quick way is to go to http://www.prchecker.info/check_page_rank.php and type in your URL of choice whether that's a page or top level domain.
SEO Quake Toolbar
The SEO Quake Toolbar is one of my 5 affiliate marketing tools which no affiliate marketer should be without. It's a free plugin for your internet browser and will give you up to date information about whatever web page you're on including page rank, Alexa rank, backlink numbers and info, and much more.
How to Improve Page Rank
Here are 3 tips on how to improve page rank:
Add new content frequently as this keeps your site relevant and fresh in Google's eyes. Content sites always outperform static sites or mini sites overall.
Create link bait to encourage other webmasters to link to your content.
Tap any one of my 70+ traffic sources to create your own off site links to your content.
Just as in SEO, the best way to develop your site and improve page rank is to create quality links to your site. The higher the PR of a page linking to your page, the more your PR will increase for that specific page.
Also remember that unlike your Alexa rank (see how to increase Alexa rank) your page rank differs from each page on your site. Therefore you can have individual pages on your site which have a higher page rank than your top level domain's rank. One example from this site is my post on how to make a Twitter background which is a page rank 3 and currently outranks my home page itself. This will happen if you have strong links pointing to your individual pages from high PR sites.