If you are serious about developing a competitive and lucrative website then you need all of the affiliate marketing tools of the trade. Here is a list of the best affiliate marketing tools which I believe that no affiliate marketer should ever be without.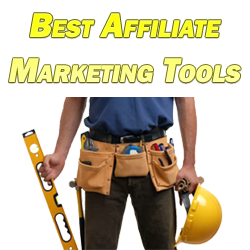 Best Affiliate Marketing Tools
Not only is Market Samurai the best overall and completely free keyword tool out there (see my video on how to do keyword research with Market Samurai), but it's got loads of other features. It's an SEOer's dream tool because it finds links and content for you and your blog and it enables you to find out practically everything about your major competitor's sites so that you learn exactly what it takes to break into the top 10 in Google for your keywords of choice.
Check out my complete Market Samurai review video to see each of its 8 major features in action as well as how to unlock its full features for the lowest possible price.
SEO Quake is the best of the internet browser plugin based internet marketing tools for your internet browser of choice. It displays real time SEO information about whatever web page you're looking at. Market Samurai will tell you a lot of the same things, but this is much quicker if you just want a quick look at whatever site your browsing's Alexa rank, number of links according to the different search engines, etc.
Here's a screen shot I took of one site's stats recently. Extra brownie points if you can ID the site based on this! (you may need to click on the image to see it full sized)

Camtasia is the most affiliate marketer friendly piece affiliate marketing tool for screen capture videos and editing. If you've ever seen a professional marketing video which made use of zooms, graphics, blurring, cursor effects, you name it; odds are it was done using Camtasia Studio. Check out my full video Camtasia tutorial and review to see it working in action.
I consider Aweber an affiliate marketing tool if for no other reason than how much money I've made in using it. Check out this video case study on the best way to make money online to see just how lucrative email marketing is, then grab your free copy of my Complete Email Marketing Blueprint over on my Facebook page to learn everything you need to know about making serious money through email marketing right now.
OIO is the best of the affiliate marketing tools for managing your site's advertising. This is a plugin for WordPress which automates 99% of your advertising from greeting potential advertisers to your site, giving them quotes for advertising/banner spaces on your site, collecting payment, publishing the ad, and taking it down when its contract period has expired. The only thing you have to do is approve the ad before it gets published. Check out my making money page for more info on this plugin and how to get it at its lowest discounted price using my special ConvertingCopy.com discount code.