A content site is a web site which has a great deal of content (duh). This is in contrast to a mini site, sales page site, or any other website made of just a few pages of content. A lot of businesses continue to use these few page sites without realizing the negative repercussions in doing so.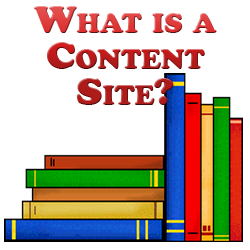 What is a Content Site
Admittedly in the past you could get away with owning a website made up simply of your home page, contact page, about page, and maybe a couple of other fluff pages, expecting it to be adequate and to rank with it.
Nowadays content is king, and websites with dozens, hundreds, and thousands of pages of unique content are understandably seen as being higher quality and more authoritative. Additionally, as a webmaster, a content site affords you the opportunity to target an infinite number of keywords so that you have a limitless number of pages to potentially rank well for in the SERPs.
A simple way to convert a static site into a content site is to use WordPress, a free blogging software which is simple to install and manage. You can check out my article on how to use WordPress for more information on getting started, but basically WordPress enables you to add new content easily on a regular basis to your site. You can convert your entire site to a WordPress format, or you can just include a special blog section of your site in which you can write your info on.
I've even talked about how WordPress helps you rank better. Because it's so easy to add new content, you can get in a rhythm of consistency when it comes to making new posts which search engines just like people absolutely love.
This is in part why guest blogs perform so well; they are the quintessential content sites made up of the highest quality content from an ever revolving line up of guest bloggers.