Making money online is everyone's dream on some level. It's likely why most of you come to this site. The problem is that there are so many scams designed to rope in desperate people with promises of huge payouts in exchange for a small initial fee. Today I'm going to cover 3 ways to make money FOR FREE online.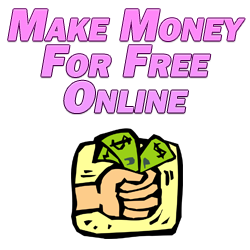 Make Money For Free Online
Freelance Writing
As many of my readers know, I got my start as an article/content writer for a service which is no longer around. I made good money from some of my clients and I lived off of that much needed income when I was just getting into affiliate marketing until I got a foot hold.
There are lots of great article writing websites for connecting article writers with webmasters looking for content for their websites, articles, and other material. Fiverr.com, for example, and similar micro job sites are great for quick paydays. Check out my post on how to make money with Fiverr for more information on this.
Affiliate Marketing
Affiliate marketing is my personal favorite way to make money for free online, minus the recommended costs of registering a domain and getting that domain hosted, though you can get by just paying a ridiculously low $7.49 for registration with my GoDaddy dot com discount link and $1.99 for monthly hosting with my GoDaddy hosting discount link.
Affiliate marketing means that you take someone else's product and promote it for them to other people, in this case online. I think most everyone knows that I'm big into affiliate marketing, I've even got a FREE 10 Day Fast Track Affiliate Course designed to teach everyone what I've learned over 6 years of affiliate marketing in just 10 days of email and video based lessons. You can sign up for free using the form in the top right corner of this page to get enrolled for free right away.
Create Your Own Product
The biggest earners in affiliate marketing make the majority of their money through product creation.
I'm ending with this one because over the course of the next 2 weeks, I'll be covering everything you need to know about product creation from creating it initially to selling it online and everything in between. To coincide with this series, I'll be launching a brand new (non IM related) product and will be documenting every step of it right here on ConvertingCopy.com.
Remember to check back this Monday as that will be day one of the two week series!