I've talked in the past about why article spinning generally doesn't work (see why in my "Article Spinning Does it Work?" post. If you're too busy to do the writing yourself or maybe writing isn't your thing, you don't have a lot of options other than to outsource it to someone else.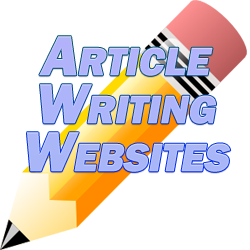 Article Writing Websites
Where can you go to find quality writers who won't rip you off? Beyond doing a basic Google search to look for writers, consider this list of article writing websites for hubs which connect writers with webmasters looking for content which you may not have thought about.
The Warrior Forum is one of the best forums for webmasters, but many people don't also realize that it's a great place for finding reputable and quality writers who are capable of researching and writing on a number of topics and niches. A nice thing about the WFH section is that there will generally be a number of testimonials about that person's writing from others who have employed them, making your decision much easier.
Micro Job Sites
Fiverr.com and similar micro job sites are great places to find talented writers as well as a number of not so talented writers, so use your due diligence and ask for a sample. If you ever have any issues, you're only out $5 (at least in Fiverr's case). Check out my post on how to make money with Fiverr for more tips in dealing with micro job networks.
Forums
Finally, I recommend checking out forums which are very related to your niche. Make a post in which you express that you are interested in hiring a content writer on that niche. When someone replies to your post, check out their previous posts as a quick background check to make sure they both are knowledgeable/know what they're talking about in relation to your niche and that they have a grasp on the English language.
If they check out then you might ask them for a sample, so with this method you have an extra quality check in place.
One final note, once you find a writer whom you're happy with, make sure you take care of them and pay them adequately to ensure that they continue to produce for you and produce good content at that.