The landing or sales page for your product needs to be incredibly strong and convincing because this is where all of your affiliates are going to send their traffic to. Once they've done this, the rest is up to you or more specifically your landing page.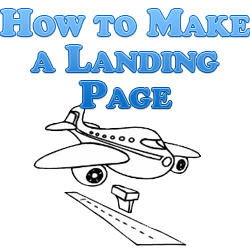 How to Make a Landing Page
Consequently, it helps to know how to make a landing page which will overwhelm your visitor. Luckily, there is an effective formula which most marketers follow because it works so well, so let's talk about how to make a landing page for your product right now.
Of course it wouldn't be very effective or fair to talk about how to make a landing page without showing you the landing page for my product. You can check it out appropriately enough by clicking on this link for how to write a song. Now let's talk about the format which I used one element at a time.
One format which converts very well and consequently gets used frequently by marketers online in all different niches is to create one long sales letter. I wrote about how to write a sales letter, so I'll direct you to that as you can learn a lot from that post.
There are several elements which you want to incorporate onto your landing page:
Headline – An attention grabbing headline is job number one. People have extremely short attention spans, so your headline should pull them in right away, otherwise you've lost them forever. You can do a lot of things with your headline such as addressing your reader's problem while offering the solution in an exciting way with this headline.
Design – The design is a large part of your landing page. This includes the overall design of your site in terms of where and how things are placed and also includes things like using dynamic font styles and colors.
Graphics/Media – Solely using text won't engage your reader; you need images and possibly video to engage your reader. A lot of landing pages use a persuasive video above the fold (see above the fold web design for more information) in combination with a great headline as a truly effective way to kick off their landing page.
Testimonials – The Federal Trade Commission and certain affiliate networks have changed their regulations about what passes for an acceptable testimonial, so make sure that every testimonial which you use can be backed up. That being said, testimonials are still an effective way to assuage your reader of their doubts about your product after they see other people have given their approval. Refer to yesterday's post on asking for testimonials for more information.
Call to Action – A strong call to action is essential in convincing your reader to take your desired action which in this case is purchasing your product. Check out these posts on call to action marketing and 60 call to action examples for more info on how to seal the deal.
Your Background – Don't forget to include your credentials if you have any which vouch for your experience. If you've written a book on a medical problem and you've got some kind of certified background in medicine, you'll want to make that very clear from the start of your landing page as this will give you more credibility and even put some people's minds at ease about purchasing your product if they were on the fence.
If you don't have official credentials, then make sure to explain your story about how you were once a long time sufferer of the same problem which your reader is currently experiencing before you took it into your own hands and found the solution (found in the book). Putting yourself in the same place as your reader creates empathy for you and is a good way to get them to relate to you and get them on your side early. This is one of my many sales page copywriting tips which you should use when designing the your landing page.
The template/WordPress theme of your site is also crucial. Some templates/WordPress themes are much more suited for a sales page than others. I used Optimize Press for this particular sales page.
Optimize Press is made for affiliate marketers plain and simple, making creating a sales page (or squeeze page or membership site or launch page or blog site) point and click simple. Check out my complete video Optimize Press review for more information on this highly recommended theme.