A traffic exchange can bring in traffic to your website. Many webmasters use it as their sole or as a supplemental source of visitors to their site.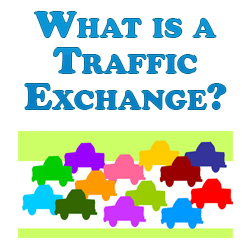 What is a Traffic Exchange?
is a type of site which provides a service for webmasters in exchange for traffic. These sites are generally available completely free with the option of a premium membership.
The basis of how it works is you log into your account and view a web page from another webmaster, typically something which hard sells their offer which may be an actual product they are selling or it may just be a squeeze page to encourage you to sign up for their list in exchange for sending you a freebie product or giving away some information through their autoresponder (see setting up an autoresponder and how to make money email marketing with an autoresponder.)
After viewing that page and hearing their pitch for 10 seconds or so (depending on the network) you earn some credits which are spent in exchange for getting your website of choice shown to other webmasters in the same situation.
At this point you can keep viewing and interacting with that page if you're legitimately interested in its content, or you can click on to the next page and accrue more credits.
This is a great way to generate free traffic to your site without having to spend a dime, just your time. The neat thing is you can get lots of free information and offers by viewing these pages from other webmasters while knowing that your website or page of choice is being viewed by other webmasters.
Remember that because each page only has to be viewed for a few seconds, you need to come out guns blazing when it comes to advertising your own offer or website. A very engaging video which starts off with lots of energy is likely the best choice as a result. Something which is very straightforward and which converts at a high level.
This is why squeeze pages perform so well and are likely your best bet as a squeeze page combined with a traffic exchange is a great combo.
If you don't have a squeeze page or know what one is, check out my post on how to set up a squeeze page effectively. Most people aren't looking to make a purchase on a traffic exchange unless you have an AMAZING sales pitch which pulls them in, but if you dangle some great information or other free resources in front of them then this can be a fantastically effective way to really skyrocket the sign ups for your email list.
Check out this video showing me surfing the completely free Dragon Surf traffic exchange site to see how easy it is to generate some fast free traffic to your site of choice:
For additional traffic sources, check out my huge list of 70+ traffic sources to increase website traffic.