A lot of people are familiar with the term squeeze page, but if you're not then you've likely been left out in the cold when I've thrown it around from time to time, especially when I'm talking about email marketing.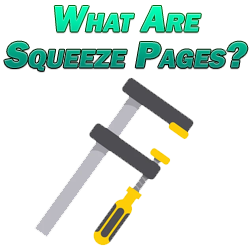 What Are Squeeze Pages?
The first thing to address is what are squeeze pages? These are specific web pages which are generally designed to solicit opt-in email addresses from prospective subscribers. The major difference between a squeeze page and say this page you're on right now which has an opt-in to my email list is that this page has plenty of exits and other content. I've got a menu of links, content which is unrelated to my email list, advertisements, etc.
Conversely, a squeeze page's sole purpose is to capture that email address, so these distractions are taken away. Because you only want your subscriber to take that one specific action, you remove all exit points from the site and put the emphasis solely on that opt-in field, call to action, and minimal content; the name "squeeze page" itself derives from the idea that the visitor's email information is "squeezed" out of them because this is what the direct design of the page dictates.
In terms of content/presentation, I've found that videos work best. This gets the attention of your visitor right away and encourages them to stick around and see what you have to say as opposed to just including a few lines of text, albeit persuasive text.
Address your potential subscriber's problem in the opening of the video, then explain how your email list + autoresponder (if you have one) is the solution. People are more wary than ever about giving out their email address in this spammy world we live in, so make sure you assuage them of those concerns by explaining everything they'll get by signing up for your list.
Search engines in recent months and years have seem to have had it out for squeeze pages, likely and primarily due to the lack of content and substance which they provide. As such, squeeze pages perform poorly when it comes to ranking, so SEO largely goes out the window.
This means that you have to focus on other ways to generate traffic to your page. PPC networks typically penalize and or charge advertisers more when linking their ads to a squeeze page because it requires the user to take an action before they can see any content. Consequently PPC isn't ideal for generating traffic to squeeze pages like it used to be.
Referrals, email marketing/ad swaps/solo emails, and even offline marketing are all still effective options for generating traffic to a squeeze page.
You may wonder that if there seems to be so much adversity against squeeze pages then what's the point in using one? The upside is that generally squeeze pages convert well when it comes to growing your email list, you just have to be creative when it comes to sending traffic towards it.
How to Set Up a Squeeze Page
Setting up a squeeze page can vary in method. If you have some basic coding knowledge you can put together a squeeze page pretty simply because the emphasis is just on a bit of content and the opt-in code which you receive from your email software company of choice. Even a basic table will achieve the effect you want generally.
Of course there is a lot of software which streamlines the process of how to set up a squeeze page. Optimize Press is in part a squeeze page theme for WordPress which can be used to create attractive and high converting squeeze pages within a few clicks of your mouse. It can also be used for generating instant sales pages, blog style pages, launch pages, and membership site pages, as well, in the same way.
This is what I use for every one of my squeeze pages because it's so fast and simple to choose from a number of designs, customize it and plug in your text so that you have a complete squeeze page in minutes. Here's a video of me showcasing just that in my Optimize Press review.