Buying and selling sites is a big business. About 6 months ago I sold off a number of my affiliate websites. I did some basic analytics to find that I was putting a lot more work and getting less in return for some of my sites than others. It was getting to the point where I was working much more than a full time schedule to make that money, so ultimately I decided to trim the fat.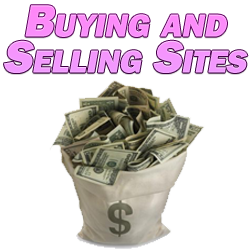 In my case I wasn't looking to make a deal but to simply lighten my workload and make a little money in the process, but buying and selling sites is a huge business and a great way to make money online if you have the eye and the aptitude for it.
I used Flippa.com, a very popular site for buying and selling websites. You can list your websites for sale and set a price as a seller and as a buyer you can bid on a site.
Remember that the reason a lot of webmasters sell is because they aren't making any or enough money on that site and frankly oftentimes don't know how to make money. You and I know better, though. Refer to my posts on how to monetize a website and blog advertising tips in case you need some refreshing. Now let's get into the specifics of buying and selling sites.
Buying a Website
As a buyer, the overall key is finding a deal.
Take BestPhotoShopTutorials.net, for example. This is a site which was receiving 80,000 unique visitors and 250,000 page views each month. About half of this traffic came from referring sites whereas much of the other half was organic SEO traffic.
Additionally, most of that traffic was from the US or UK, two of the most sought after/valuable regions geographically for traffic. The site even had a page rank of 4.
You ask why would the webmaster sell this site? Because he didn't know how to monetize that traffic, and rather than bringing in a consultant to help him with that, he sold it off for $2800. Any competent affiliate marketer could see the value in that site. If monetizing properly through advertising revenue or software and informational product related affiliate offers, that site could easily pull in $2800 EACH MONTH.
Like with anything else, there are no specific numbers which you should look for in terms of traffic, you should be able to get a gut feeling as to whether or not you can do something with a site and its current traffic levels by looking at them.
So, if you're looking to buy a site, here is a 9 point checklist to consider. If you're looking to sell a site you'll still want to keep these in mind because any savvy website buyer is going to look at at least some of these points, so you want to make sure everything is in order and on the up and up when you list your site.
Request the Google Analytics on that site for at least the last 6 months. This should be at the top of your list.
Verify the traffic rates/sources and especially make sure to check the geographical breakdown of that site's traffic for the past 6 months. The reason being is that as I mentioned earlier, traffic from the US, UK, Canada, and Australia is generally seen as being the most valuable as these are generally visitors who can not only read and understand English but who are more willing to interact with a site and possibly make a purchase. You obviously don't want a bunch of artificial or paid for traffic coming out of hundreds of IP addresses in India.
Check the WHOIS info on that domain. Sometimes it will be unlisted or that person won't use their name. Request this information if you can't find it.
Google the website and seller's name to find out information and possibly any negative feedback or comments on each.
Check the site's history at Archive.org so you can see that site's history and how it's been used in the past few months and even the past few years up to when it was first registered.
Manually review the different inbound links to that site. You don't want to find links from a number of spammy sites, but more importantly you want to make sure that the links pointing to that site remain intact after you purchase it. This is a classic scam in which the seller gets high authority/ranking domains which they likely own, as well, to temporarily link to a site to boost its rankings and PR itself only to cut off that link once the deal has been made.
Compare ad networks stats for that site against Google Analytics for any discrepancies between the two which you can ask about.
Check the robots.txt file for the domain to see if any pages are listed to not be indexed by Google and if there are that's something else you can ask about.
I also recommend for bigger deals where you're spending into the 4 figures that you talk to the seller over the phone. This is one more level of trust which is good to establish between both parties so that you can get a feel for who it is you are dealing with as opposed to someone you're emailing back and forth with who could be dealing with you from who knows where.
Selling a Website
Conversely, if you're selling a website here are 9 tips to keep in mind.
Flippa enables you to either manually or automatically approve bids. I recommend manually approving bids when they come in, especially for larger deals, because that enables you to check up on the person bidding before you approve their bid. Chat with them online or even call them up to make sure that they're legitimately interested in what it is that you're selling so you can weed out those who will skip out at the last minute.
Use Google Analytics for your stats. This is the legitimate
10 days max is appropriate for a bidding window for most sites.
Give a long term picture of your site as opposed to a recent 2 month period as this can look suspect (as I covered in the buy section).
Don't hype your site, don't talk about potential, focus on the facts/stats.
Don't share your reserve price, this discourages people from bidding and driving up the competition/price.
Respond to every comment or question people leave to show that you're a real and accessible person on the other end of that site. This encourages more interaction and bidding.
Approving multiple bids at once will put your site on the "most active" list, meaning it will be featured and much more visible on Flippa, thus encouraging more exposure and consequently bidding on your site.
For high value sites, those which you expect to fetch bids in the 5 or upper 4 figures, it is worth it to "upgrade", meaning your listing will appear on the main page, encouraging more exposure. You can upgrade as many times as you need to to keep your site on the home page which again is primarily only worth it when you're dealing with a sizable sale.
Whether you're buying or selling sites, for higher priced deals you might think about handling a more secure money transfer via Escrow.com which Flippa gives you a deal on as opposed to something like Paypal.