Like long tail keywords, Micro niches are those which are smaller and consequently less competitive. Oftentimes a micro niche can exist within a larger niche, so rather than gardening or getting more specific with the smaller niche of strictly flowers, we can get even MORE specific and find a micro niche in how to grow and care for a specific type of flower like calla lilies. The benefit of tracking down and targeting a micro niche is that you get far less competition but you also know that you're targeting exactly what your audience is interested in. Now let's address how to find a micro niche with 3 methods for finding largely untapped niches.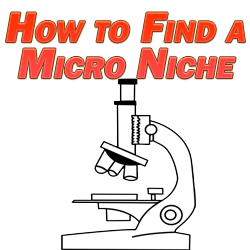 How to Find a Micro Niche
Micro Niche Finder
Micro Niche Finder is a powerful marketing tool designed with just one purpose in mind: finding untapped micro niches. You can search for a basic niche and from that, not unlike a keyword tool, it will give you a number of related results but with an emphasis on niches specifically.
It's my go to tool when I'm trying to find a micro niche not only because this is its sole purpose but because it primarily targets competition and gives you accurate recommendations as to whether or not a niche is too competitive to pursue, saving you a lot of time.
Market Samurai
Market Samurai can be used for a lot of different functions as I cover in my Market Samurai review, but it's good for identifying micro niches, as well, because while it focuses on keywords you can get very precise projections of the kinds of competition you would be encountering before you enter that niche. The best part about this is that you can identify micro niches solely using Market Samurai's FREE keyword tool.
Click on this link to get Market Samurai's FREE keyword tool and get to doing some searches and sizing up your competition right now.
Tools Free
Let's not disregard the power of observation. You can find possible micro niches by doing searches online or just by keeping your eyes open. Check out Amazon, Google, or Yahoo shopping sites to see the kinds of things which people are buying. Find trending products to find hot up and coming micro niches, etc.
You can even go to the mall to see new products people are buying or you can just take a look around your room to find some micro niches. Take a look at the products which you have bought and you can potentially find some great untapped niches.
Then, when you think you might be onto something, plug it into your free copy of Market Samurai's keyword tool and see if you have any chance of ranking for that micro niche's relevant keywords. Check out this video on how to do keyword research with Market Samurai to see how to tell if a keyword is too competitive or not.