As I explained in my online video marketing tutorial yesterday, video marketing is the most interactive form of online marketing and it's a completely unique traffic source all of its own. You'll need an HD camera to put your pretty face online and get started, and the good news is you don't have to break the bank to do it.
Best Video Marketing Software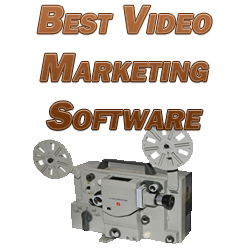 Sony Bloggie Camera ($149) – The Sony Bloggie Camera is still in production and from the samples I've seen (click here and click on any one of the "video" sample buttons underneath the image of the camera on the left), it's a very powerful camera in its own right which rivals the Zi8 in terms of functionality and quality. Plus it's about $100 less; so I typically recommend the Bloggie to anyone looking to get a new portable HD video camera as it's the best video camera for the money.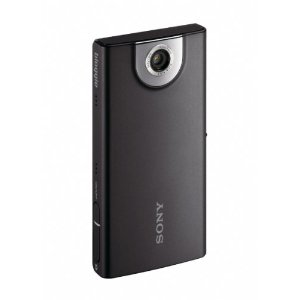 Major Features:
It offers Full HD 1080P Video while making ti extremely quick and easy to upload to your computer or YouTube. An HDMI out lets you watch videos on your HDTV.
Auto-Macro shooting and 4x digital zoom so you can take pictures or video from 4 inches away so you can capture a business card, phone number, etc.
Sony Exmor CMOS sensor for high-quality video/stills – means higher quality video/pictures and less grain regardless of your lighting or lack thereof.
Face Detection technology recognizes faces and optimizes camera settings for both video and still images, so faces are captured more clearly and skin tones look more natural. Built-in rechargable battery. The built-in battery contributes to the Bloggie camera's sleek and stylish design while powering the large 2.7-inch screen and camera functions.
12.8-megapixel stills – great for capturing perfect detail for cropping shots or large prints.
"Dual Record" feature enables you to simultaneously take pictures while shooting a video.
Image Stabilization/SteadyShot image stabilization technology reduces blur in times of shakiness so your video and images are still crisp.
Built in USB arm lets you connect directly to your computer without needing a separate cable.
There is also the Sony Bloggie Duo ($168) for $20 more which has all of the features of the Bloggie Camera but with an additional LCD on the opposite side of the camera so that you can see what the video or image looks like while you're capturing it so that you can adjust your shot or wardrobe accordingly. This is a feature which I wish that my Kodak Zi8 had.
Kodak Zi8 (approx. $245) – Once the industry standard for internet marketers on a budget, I've used the Zi8 myself for a couple of years now. Unfortunately they discontinued the Zi8 a few months ago, so I won't go into detail about the features of this camera. If you're deadset on getting a Zi8 I've found a few new for sale through Amazon at the time of this article.
I'm putting together a new on camera setup which I'm very excited about in terms of how it's turning out, so I'll give you a full overview of that with tips on how to get the perfect shot when it's all finished.
Video Marketing Software
Another popular video format which can be applicable in some situations is screen capture. You use a program to film your computer's desktop and capture your every move and action. You can film a software product review effectively with screen capture software, showing you walking the viewer through the features of the program, or you can soup of your PowerPoint presentations and turn them into video presentations.
You can add audio during or after the fact, and you can make all kinds of edits from zooming, basic cutting, add audio to your video, edit multiple videos together, add calls to action, blur out portions of the video, highlight portions, and much more.
Camtasia ($270) –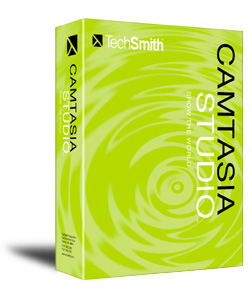 Also the industry standard but for screen capture software. Camtasia gets my vote for the best screen capture software given the amount of options you get with it and the intuitive and easy nature of it. If you've ever watched a cool screen capture marketing video from one of the gurus, odds are many of them used Camtasia.
You can edit your videos from a physical video camera, as well, using Camtasia's powerful editing features. I did a complete overview awhile back for this program, so I'll refer you to my complete Camtasia tutorial and review.