YouTube is the biggest video based social network which banks over 2 billion views per day. It's the number 3 most trafficked site on the net. After you've submitted a few videos they'll remove the 15 minute time constraint on your videos so that you can put longer content up. All in all, YouTube will meet most of your needs when it comes to adding video content, and it's easily the most trafficked video site. Therefore, it behooves you to know how to get YouTube views, so here are 7 ways to do just that.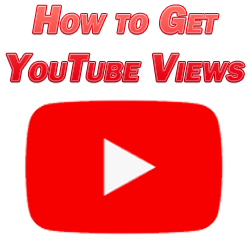 How to Get YouTube Views
SEO
I covered this in my online video marketing post, so I'll refer you to that, but make sure that you optimize each video for the search engines so that you have a chance of appearing in the SERPs with that video for your keywords. Using keywords to describe your video also dictates when your video appears in the related videos section of YouTube – a prime spot for getting more curious YouTube views; so choose and use your keywords effectively.
Visibility
Remember to put your videos above the fold. A huge way to get more views is to revolve your embedded YouTube videos on the homepage of your website. Have a daily/weekly/monthly video featured on your homepage and put it above the fold of your site.
Also remember to make full use of video responses. Track down a high trafficked video which relates to your video and make your video a response to it (see how to make a video response in YouTube).
Promote Them
Make sure to tell your fans and readers whenever you put a new video up which you think they would enjoy or get something out of(the only kinds of videos which you should be making). Email your list, make a tweet about it, post about it on Facebook, Google +, etc.
Incentives
Offer an incentive to get people to watch your video. Tell people that if they watch your new video, they'll learn how they can gain free access to your incentive.
Just make sure that getting YouTube views isn't your endgame. If you're going to all of this trouble to generate YouTube views on your videos, make sure that each video links to some kind of offer which you can leverage through those views. Whether that's to generate some social proof on another network, push an affiliate offer, or build up your email list, don't aim for YouTube views for the sake of views.
Buy Them
I do not encourage purchasing YouTube views, but nevertheless this is another method for how to get YouTube views. You're not paying for results through purchasing views, just social proof, as it's almost certain that a bot is viewing your videos as opposed to real people, and bots don't carry much cash the last time I checked.
Content
This one is obvious but cannot be overlooked or underestimated. Having great/unique/interesting/entertaining content is the best way to get YouTube views. Check out this post on viral marketing ideas to get a better idea of how to create something which is worthy and capable of going viral.
Also, make sure that your video itself is of high visual quality. Every video which I upload is at least 720p which is HD quality (see the best video marketing software and best camcorder under $300 for info on the software and hardware which I use to record). When your videos look more professional, you look more professional.
Subscribers
Having a lot of subscribers is a surefire way to get lots of views, so make it visible and as easy as possible for people to subscribe to your channel. This keeps them updated whenever you add new content. Aside from making it simple for people to sign up for your channel and advertising this to everyone you can, follow the general rules I've listed for creating good video content to maximize on your subscriber sign up rate.