It's online video marketing week here at ConvertingCopy.com – a week's worth of content all related to marketing your business and website through the medium of video. To kick things off, here is a complete online video marketing tutorial to get you started.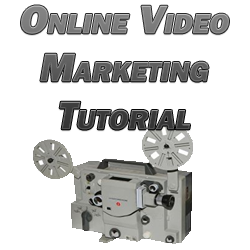 Online Video Marketing Tutorial
Video marketing is one of the biggies on my big list of traffic sources. You need to be tapping every traffic source which you can, and this one is huge because it's the most engaging form of traffic which you can take advantage of.
The Google owned YouTube is the 3rd most popular website in the world, ahead of Twitter itself. Its videos receive an accumulative +2 billion views each day. If you do a basic Google search for any keyword, many times you'll find a YouTube video as one of if not the top result because Google realizes that oftentimes people would rather see a video on a topic rather than read about it if possible.
So how can we get our videos to rank atop Google for our keywords to take advantage of even a small piece of this traffic? Welcome to Video Marketing 101; class is now in session!
First thing's first; you need a way to produce videos. I've done a complete posting on the best video camera for the money.
After you've got that sorted, it's time to shoot. But what can you make videos of? One thing which you can do is take your best performing blog posts and turn them into video presentations in a number of different styles. Here are some video marketing ideas:
Shoot a video of yourself talking about that topic, thus educating your viewer as if you're giving a lecture. Use props like a chalkboard in the background to better engage your viewer if possible.
Make a PowerPoint presentation and film it with your voice over narration.
Do a screen cast demonstrating how someone can do something on their own computers by doing it on yours and showing every step of the way broken down. This works extremely well for software product reviews if it's a good product as there's nothing better from a consumer's point of view than seeing a product in action and seeing what it can do beyond what the merchant will tell you in their description. You can also tilt the review towards the perspective of your viewer, putting yourself in their shoes.
Better than all 3 of these options is to make an amalgamation of all of them. People inherently have short attention spans, so the less static video content you provide, the better. Cut back and forth between shots of you on camera and a presentation or screen cast.
Remember that the best video content is unique, inspiring, informative, entertaining, funny, or some combination of all of these factors. Consider my viral marketing ideas for tips on how to create a video which is capable of going viral and encourages sharing.
Video Marketing SEO
SEO plays a huge role in video marketing. Remember to use your keywords in the title of the video as well as in the description regardless of the site which you're submitting your video to and hosting it on.
Include a link back to your website in the description above the fold which on YouTube means that this should be the first thing which you include in your description. YouTube allows full URLs (i.e. no hyperlinks), so just paste it in as is. It will be a nofollow link but it can be a valuable source of traffic. You can also include an affiliate link if you're using something like PrettyLink to clean it up.
Remember to add your keywords in the tags, as well. This will increase the chances that your video will appear in the similar results over to the right side of the page in YouTube.
Take full advantage of video responses and work to make each of your videos a response to another video. See this post on how to make a video response in YouTube for more information on how to do this.
Finally, check out my post on how to get YouTube views for info on how to do just that.