Local SEO citations are the bedrock of any well ranking local business. Google and other search engines rank businesses with a consistent NAP presence (meaning name, address, phone number) higher than their competition because it shows a more universal and reliable footprint to trust for that business.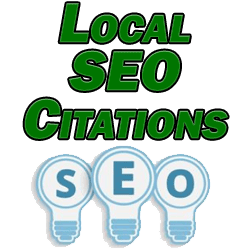 You can find local SEO citations in a few ways such as doing a basic search for a local keyword which is relevant to your industry and city. This will yield a number of directories on the first few results pages of that search which you can create accounts for and add your local SEO citations accordingly.
But in the world of local SEO citations, quantity is key, and more than your competitors is always better. So let's talk about how to find tons of local SEO citations with the useful and cost effective data aggregator, Scrapebox.
Scrapebox is a handy and relatively inexpensive tool for sifting through hundreds, thousands, or even millions of search engine listings. This is useful for many different reasons, but today we're going to focus on how you can use it on a very basic level to find local SEO citations for your business.
How to Find Local SEO Citations
Let's do a quick search with a random example of a local keyword we might be trying to rank for: "topeka mechanics".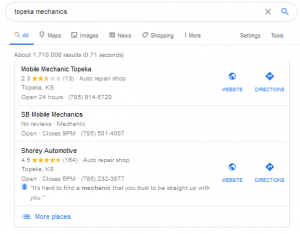 In clicking on the third listed option, we get its complete address. Now if we fire up Scrapebox, we can put its address and a couple variations of it with quotes to have Scrapebox search out every mention of that address (and the variations we included) on the internet.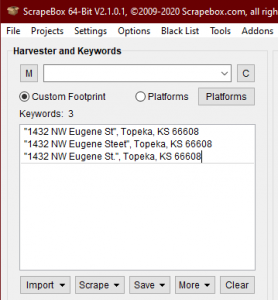 I recommend entering any addresses you find with the same format as I've shown above to get the best and most accurate reach and results.
You can also add the business' website itself on each line with a hyphen in front of it to omit it from the results, or alternatively you can use the filtering options after you get your results to filter out any results from the business' site itself.
BE SURE to use proxies whenever scraping search results with Scrapebox to keep your IP from being temporarily banned. You can either provide your own or use Scrapebox to find and test them for you free of charge before you get to scraping (see how to get proxies for more information).
After scraping, you'll have dozens if not hundreds of viable new directories and services to add your citation to for local SEO purposes.
Rinse and repeat the process for each and every one of your competitors in the first few pages of Google and all of a sudden you should have far more local SEO citations than all of your competitors.
You can find even more businesses to pull from in the many directories which you find themselves, giving you a lot more options.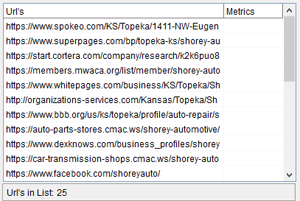 I recommend putting together one massive list in Scrapebox with each business you scrape so that you can filter everything out all at once.
Once you have a nicely filtered list, you can begin visiting the URLs one by one and creating your citation on each.
ALSO BE SURE to create a list of all of the different directories and services which you've created a citation for your business for as you go, including your login information for each directory.
This is essential if you ever need to change any aspect of your citation, whether it's one of the big three in the name, address, or phone number, or something like the hours of operation. Consistency is key in regards to your citation when ranking for local keywords, so be sure that your information is exactly the same across all platforms and update them all accordingly when something changes.
One final thing which I recommend is, if and when something changes in your citation, do a search for your own address to find any additional directories which someone else added your business to without your knowledge. This happens occasionally as the curators of directories want them to be as full and complete as possible, so a newer directory you might have missed when initially creating your citations might include you now in which case it needs to be updated with everything else.
Combine a huge list of local SEO citations for your business with good on page SEO using the best local SEO keywords and you'll be dominating your local competition in no time.