Scrapebox is really just a powerful data aggregator designed to save you time, but like with most powerful inventions, it can either be used for good or evil, or for our purposes, white or black hat SEO. I'm going to focus on the good, or white hat Scrapebox methods in this post.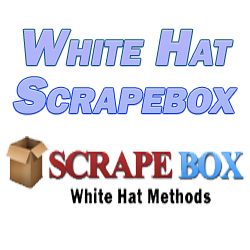 White Hat Scrapebox
Keyword Generator – Scrapebox's keyword scraper is great for not only coming up with keyword suggestions like any other keyword tool, but it enables you to choose from 10+ scraper sources to find more specific keywords for each platform, depending on what you're targeting.
Example, "YouTube" is an option. Choose this and Scrapebox offers suggestions related to your keyword which people actually typically search for on YouTube. This is very valuable because if you're looking to just put together YouTube videos and want to target keywords for that platform, you can find better suggestions using this tool to target. You can even find domains related to those keywords which are available.
Resource Pages – Resource pages are pages on websites which exist pretty much with the express purpose of linking to other sites. A lot of sites still use these, and with Scrapebox we can find them uber quickly using footprints such as "intitle:resources". Nice. Email the webmaster and tell them why you deserve a link from their site.
Finding Guest Posting – I just talked about how guest posting still works recently. You can use Scrapebox to quickly find websites which allow or even encourage solicitations for guest blogging. Use a custom footprint like "write for us", couple it with your CMS engine of choice, and plug in your relevant keywords and get scraping. Now you have a huge list of sites looking for people like you to share your expertise with their audience, earning you a link but more importantly a lot of traffic and notoriety.
Finding Blogs to Comment On – You can use Scrapebox to MANUALLY post good comments on. Think blog commenting is dead? Good… leaves more for the rest of us. The more Google changes and people say certain techniques don't work anymore, the more I'm realizing they're either wrong or they mean in terms of a certain (incorrect) way of carrying out that technique.
You don't even necessarily need footprints here, just your blog platform of choice plus your keywords of choice and voila, you have a huge list of blogs. Add custom footprints of test used on whichever blog platform you want if you don't find yours listed as a default choice, then scrape away.
Once you have a sizable harvest list, use the PR checker to sort PR high to low to prioritize that list. As a final step, use the Outbound Link Checker addon to refine your list from least number of outbound links, these pages will offer the most link juice.
Commenting on high PR blogs with great and relative real comments will both earn you valuable link juice along with some likely valuable traffic, as well.
Be a Hero – Let's end on a feel good note. Scrapebox even has a free addon which enables you to find malware infected sites. Why would you want a list of malware infected sites? Because you can help those webmasters overcome their malware, then they'll reward you with a link. Once you have that list, don't visit those sites (or you risk getting infected yourself) but instead use the WhoIs addon with Scrapebox to get their contact info.
Simply explain how they can clean their site or just direct them to your how to guide on removing malware. Don't have one? Send them to my guide on how to remove malware from your site instead. You'll impress them by taking the initiative, they'll appreciate it, and you'll almost certainly get a link if you ask for one.