As I covered in yesterday's post on how to get YouTube views, YouTube is the king of video marketing websites, yes, but it's not the only one. In this article I'm going to identify 10 viable YouTube alternatives for you to spread your video content across.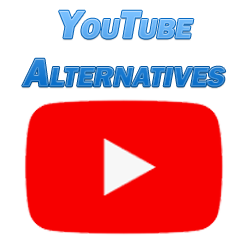 YouTube Alternatives
1 – Vimeo
Vimeo has always been one of the most popular YouTube alternatives and biggest competitors which still isn't that big at all, but it's a great alternative just the same. Vimeo is a more sophisticated alternative to YouTube and a well known one, at that. The quality of the videos is generally higher, as well, so more creative types and film majors making interesting videos and less cute animal videos. They also have a nice video school section where you can learn how to make better videos for free.
2 – Veoh
Veoh is a great place to upload longer videos because they give you unlimited unload capacity. Typically when I've seen a documentary online, it's hosted on Veoh.
3 – Flikr (Videos)
Flikr is predominantly thought of as a site for uploading and sharing your photos. Very few people realize that they have a video section which they are developing, as well. At the time of this article they only allow for short 90 second videos with a premium unlimited feature – that's the downside. The upside is you have a sizable Flikr audience to share your videos with if you've got some good shorts to share.
4 – VideoJug
Videojug is known in large part for it's how-to style videos, so if you have any of that kind of content this is a great place to house it.
5 – Blip.tv
One thing I've liked about Blip when checking it out in the past is that there's a focus on adding regular content so you find higher quality as opposed to one off videos. This makes it a perfect place for you to post content to because you should be generating content on a regular basis.
6 – Viddler
Viddler is more for professionally made videos as opposed to your typical homemade vids. Think branding videos – this is a great location to upload yours to.
7 – Daily Motion
Daily Motion is another high profile alternative for YouTube. It offers 2GB and 60 minute videos max for users. While you can add your own user video content, the focus here is more on high quality professional videos from known brands looking to release new content; consequently Daily Motion has a great audience because so many high profile brands choose it to put their video content on.
8 – Photobucket
Photobucket, just like Flikr, is predominantly known as a photo site but it has a video section, as well, but without the 90 second constraint.
9 – yFrog
It's known primarily as a photo sharing site to be used with Twitter, but yFrog has a video section which is worth keeping an eye on as its library and community are growing quickly with each day. You can upload short videos while posting to Twitter right here, so it's a good way to do short video marketing directly with Twitter.
10 – SlideShare
Slideshare is predominantly thought of as a place to upload your slide show based presentations, you can also upload video, though the preferred theme is still slide shows. Taking your best posts and turning them into slide shows in PowerPoint is pretty easy to do and you can either upload it as is or you can make a video out of it using something like Camtasia. SlideShare lets you add audio to your presentations after you upload them if you haven't already done so yourself in Camtasia or whatever software you're using to create and edit your videos. Check out my post on how to use SlideShare for more information on it.