Much of the point of Twitter is getting people to follow you and read what it is that you have to say. This is especially true from a marketing stand point as Twitter followers can turn into avid readers of your blog or customers of your business.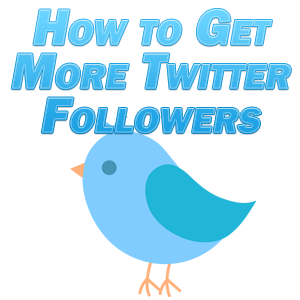 I talked about the basics of how to develop a Twitter following in my Twitter tutorial, but now let's take it one step further and cover how to get more followers on Twitter using these 12 methods to really explode your following and turn it into one of your most valuable traffic sources.
How to Get More Twitter Followers
Twiends – First off, you can use a free service like Twiends to automatically get some more quality followers. Twiends enables you to use "seeds" which are consumed two at a time whenever someone new follows you. It's a neat service because it's a great way to immediately get a lot of quality followers without having to follow them back. You get 50 seeds just for signing up, so that's 25 followers in just a couple of minutes, and there are ways to get additional seeds very easily and for free.
Check out my complete Twiends review for more info on this helpful service.
Tweet Adder – Tweet Adder is a piece of marketing software designed for automating Twitter tasks and unlocking the full potential of Twitter. You can set the program to automatically follow, follow back, and unfollow Twitter users during hours of your choosing, and there are a ton of other features like sending out automated tweets, integrating your RSS feed and automatically tweeting it while including hash tags of your choice, sending out auto messages to new followers, and much more.
Check out my Tweet Adder review to learn more about how to use this program to really dominate Twitter.
Your Profile – I mentioned this in the tutorial, but it's important to fill out your profile in full. Other Twitter users can't always get a good idea of what you're all about from your replies and tweets. Therefore you need to fill your bio with plenty of details about who you are and what you're about. Be sure to have your own custom background for your account as this really looks professional and encourages people to follow you. Don't know how to make a background? Check out this post on how to make a twitter background for free.
Upload and Tweet Your Photos – Photos trend easily on Twitter. Upload interesting photos of yours, tweet about them to your followers, then watch people retweet your message/photo over and over again.
Retweets – While on the subject of retweeting, encourage your users to retweet your content whenever you know that you have something worth retweeting. That extra push of reminding them to retweet can actually motivate some people to act on it.
Paper.li – Paper.li is another free service which organizes links shared on both Twitter and Facebook into an easy to read newspaper format. You can mention a couple of people in these papers and this is a great way to impress and attract the attention of connect with high profile Twitter users who don't follow many people. If you do snag one of these Twitter giants and get them to follow you, for example, followers of them will certainly be interested to learn more about the person who was able to do it.
Contests – Contests are always great ways to motivate people to take action. Create a content with a nice prize which relates or maybe even doesn't relate to your niche and say that you'll give it away once your Twitter followers reaches a certain number. You can use a contest to leverage your Facebook "Like" number and other areas, as well.
Promote Your Twitter Name Online – Advertise and link to your Twitter username everywhere you live online. Your website, in your newsletter, on other social networks like Facebook, and message boards are all good examples of places to promote your name.
Promote Your Twitter Name Offline – Promote your Twitter username when possible offline, as well. Include it on your business cards, for example. Don't have a business card? Get 250 for free with Vistaprint.
Make Use of Hashtags – Hashtags are how people search with a purpose on Twitter. Use hashtags when applicable in your tweets to make it easier for people in your niche to find you and your content.
Types of Tweets – If you look at any of the Twitter leaders within your niche, you'll find that they generally have a few things in common. Most of them tweet frequently first and foremost and their activity consists of a nice mix of conversational tweets and retweets in addition to self promotion. When someone checks you out to see if they should be following you, they don't want to see a bunch of self serving tweets or constant links in every tweet. Carry on conversations with other users and don't be afraid to make a personal observational tweet with a little humor every now and then.
Use Social Proof – When you have a respectable Twitter following which is at least in the healthy triple digits you can start using this to your favor. Start displaying your follower count wherever you advertise your Twitter account and take advantage of the bandwagon that is social proof.
Remember, the most difficult time to get more followers on Twitter is when you are first starting out, so get started ASAP if you haven't yet and start using these tips to develop your following. If you found any of these tips helpful, please follow me @convertcopy.