You may have heard this term before. I even defined it in my eBook "The No Nonsense Marketing/Making Money Online Handbook" which you can get for free by signing up for my affiliate training course on the right; but if you don't have the eBook, I've got you covered here. Long tail keywords are those which stem from more generic and popular keyword phrases.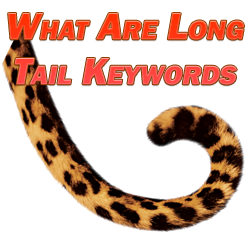 Long tail keywords are much more ideal for targeting when it comes to online marketing because you have a better chance of ranking well for it because there is less competition for it, plus these keywords are much more targeted for your audience, so anyone searching for a long tail keyword which you rank well for is more likely to "convert" on whatever goals you may have. Let's take a look at this long tail keywords chart for more information on this: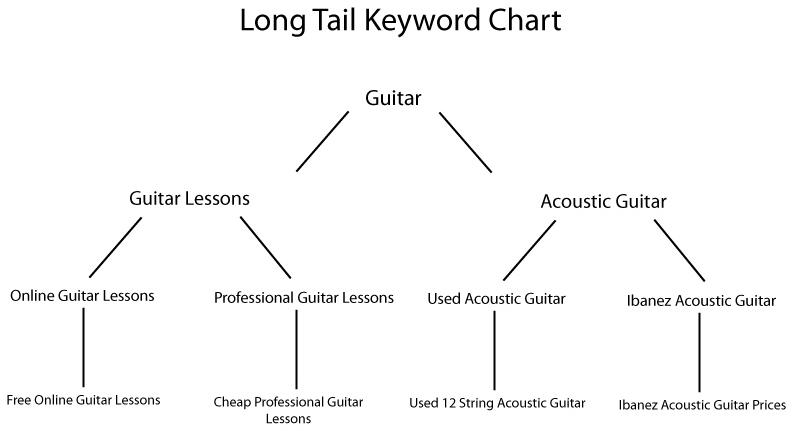 As you can see, larger, more generic keywords break down into smaller, more targeted groupings of keywords. So "guitar" breaks down eventually into the more long tail keyword of "online guitar lessons". This is an obvious example, but someone searching for online guitar lessons versus just "guitar" or even "professional guitar lessons" is specifically interested in taking online guitar lessons, so ranking well for that would be much more profitable for you (assuming you have an online guitar course) than ranking well for something more generic like "guitar" as anyone searching for this is likely more interested in generic information on the topic of the guitar.
The point is that long tail keywords are the keywords which you should be targeting as they have more of the qualities of what is a good keyword: relevancy, search volume, and low competition.