Market Samurai is likely the most sophisticated and comprehensive online marketing tool which I have ever used, so much so that I put together this Market Samurai review and tutorial video.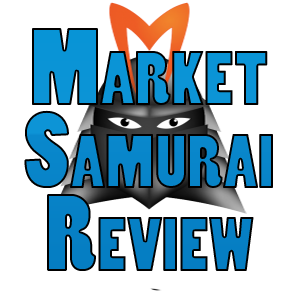 Saving time is just as important to me as making money, and saving time is likely the best feature Market Samurai boasts for itself. Its numerous features include enabling you to quickly find the best keywords, perform in depth analyses of the top ranking web pages for those keywords, collect content related to keywords of your choosing across a number of sources, find affiliate products relevant to your keyword searches and create your own ads based on those products to publish directly to your site from Market Samurai, and even search out hundreds of relevant backlinks to create to your site from high PR do follow enabled web pages with just a few clicks of your mouse.
And with a one time special Market Samurai discount price of $97, you get access to the program for life with constant updates included. No hidden fees, no recurring payments. Go ahead, give it a free 12 day trial with full access to its features in exchange for your email address so that they can email you your trial code.
To best give you a sense of what this program can do, I've put together this Market Samurai review and tutorial video using my spiffy brand new Camtasia 7 program. While I tried to keep it as short as possible, it took me roughly a half an hour to cover all of its features, but I think you will get a crystal clear idea of what Market Samurai can do for you after watching it.
Market Samurai Review and Tutorial
---
My thoughts on each module:
Keyword Research: This is my favorite keyword research tool hands down (see how to do keyword research with Market Samurai) Not only can you build a list of up to 800 keywords to filter as you like and choose from, you can learn so much more about those keywords than you can with other tools which only give you basic information such as search volume, trends, and vague ideas of what the competition for those keywords is like. With this tool you can include specific words in your searches if they are left out by the program and you can learn everything there is to know about a keyword so that you can determine whether or not it's worth your time within seconds. Creating your own custom filters makes it that much easier and faster to search by the parameters which you prefer every time you do a new search.
SEO Competition: This tool has been a major time saver in showing me everything that I want to know about my top and most successful competitor's web pages and their strategies, including a look at their individual backlinks so that I can learn exactly what it takes to secure a top search engine spot for that keyword.
Domains: The domain tool is handy for doing a quick search for potential domain names and to get an idea of what has already been taken. It only supports a few domain registrars like GoDaddy and HostGator, but it's still helpful for seeing what's out there and getting ideas.
Monetization: VERY handy for quickly finding products to promote and to determine whether or not there is ANYTHING to promote in a niche/if that niche is even profitable. The other half of this module enables you to actually put together ads to throw right up on your blog through the program, as well. You just pick the products which you want to promote through the search then switch to the ad creator half which enables you to pull the best content right off of that product's sales page from images, slogans, headers, you name it, all within a few clicks. You can think of it as the lazy marketer's way of creating ads based on the finer points of a sales page, I love it.
Combining a relevant product with the ad designer and using the sidebar template which they supply, you can put together a sitewide ad which appears on all pages of your blog within a few seconds. If you're putting together an authority site then you can use your sidebar in part for advertisers, but if your site is relatively new and you haven't established a stream of traffic yet, then it's unlikely that anyone will want to advertise on your blog; so using Market Samurai's monetization module you can craft your own ads to take the place of outside advertisers while you build up your blog's prominence and in that time you can still make money off of your own ads.
Find Content: Very helpful for taking multiple sources of content, whether it be from article directories, wikipedia, blogs, and online news publications; or even multimedia sites like YouTube or flickr; and compiling their results for a keyword into one convenient mass search which you can get ideas from or even pull and rewrite the content to make it your own all within Market Samurai.
Promotion: Creating quality backlinks is paramount in promoting your site, so being able to do keyword searches for backlinks based on a variety of types of sites and organize them by do/nofollow, page rank, and trackbacks/pingbacks to even create trackbacks right from inside Market Samurai is pretty awesome.
Rank Tracker: Pretty straightforward, but you can use this to track any web site or page of yours and its rank within the SERPs over time; giving you an idea of how well your marketing strategy is working. Like all of the other modules, you can EXPORT your results/data and download and share the file as you like.
Publish Content: The publish content module lets you log into your WordPress account via Market Samurai and publish content which you create within Market Samurai to it. You can use it in conjunction especially with the promotion, the find content, and the monetization modules to publish content/posts, ads, and trackbacks to your blog.
Website/Support: Aside from the program itself, their website is extremely helpful. Their tutorial videos are lengthy but very extensive in covering every detail of the program and they're even helpful for brushing up on your online marketing basics. Finally, their customer support is top notch. The added debug feature in the settings of Market Samurai enables them to identify and handle any technical issues you're having immediately.
---
Final Thoughts: My final thoughts, because this is a Market Samurai review; if you're a webmaster and you care about people seeing your website, Market Samurai just might be the single most important all-in-one tool to have in your belt.
Try it completely risk free with full access for 12 days right now