I've organized this list in order for fastest/most immediate to the slowest forms. These are a few of the more practical and common sources of traffic taken from my huge list of more than 70 traffic sources.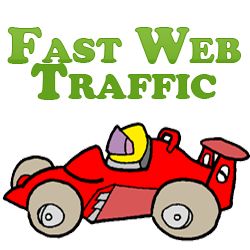 Fast Web Traffic
PPC – Next to running an ad during the Super Bowl, paid traffic has always been the most immediately form of traffic at least on the net – that's why it's still so popular. You pay in exchange for displaying your ads on heavily trafficked websites like Google or Facebook. More precisely, you can either pay every time someone clicks on your ad or you can pay for every say 1000 "impressions" or times your ad is seen by someone. This puts your brand immediately in front of your exact audience if you know what you're doing, making it an incredibly effective and instant source of traffic – that is if you can afford it.
Check out my Google Adwords Tips or my very own personal Facebook Advertising strategy for more information on getting the most out of both of these networks while spending the least to get it.
I'll include banner advertising here, as well, as getting an advertisement on an influential and heavily trafficked site within your niche can bring in traffic almost as quick as PPC can.
Twitter – Twitter is a bit of a wild card when it comes to traffic. Sending out a tweet to a loyal following can bring in almost instant traffic given that most people who use Twitter use it often and check it frequently. Check out these 12 ways for how to get more followers on Twitter. You can group in Facebook and other social network updates with this point, though they're not as potent.
Email Marketing/Solo Mailings/Ad Swaps – I group all of these together because they all take roughly the same amount of time to get the traffic to your site. Whether you're emailing your list or you're paying someone to mail their list or you're swapping your list with someone else, you can see a major response from email marketing within a few hours to a couple of days. Check out my posts on the difference between solo mailings and ad swaps and pop on over to my Facebook page to download my Complete Email Marketing Blueprint eBook instantly and for free.
Forum/Blog Posting – Forum and blog posting come just behind email marketing in my mind because I figure people in your niche check forums and blogs almost as often as they check their email. Check out my forum marketing strategy OR my post on what makes for good blog comments to get the most out of these sources of traffic.
Article Marketing – These days, article marketing can bring in trace amounts of traffic as soon as your articles get published, but this can typically take up to 48 hours if you're using Ezine Articles. The real traffic comes in in the form of syndication – that is when another website picks up your content and republishes it with your links intact on their website because your article is unique and of very high quality (thus incentive for writing high quality articles).
I've had a PR 5 site with a huge readership syndicate my articles before and as soon as that happened I saw a huge boost in traffic (not to mention PR), so article marketing is still effective and warrants your time as I covered in my 3 reasons to keep article marketing on article directories, though it can take a couple of days before you see any substantial traffic.
SEO – Not surprisingly, SEO is rounding out this list because it can potentially take months before you start seeing results from it, depending on the competition level for the keyword which you are targeting.
And remember, you need to reach that top spot to receive an estimated 42% of the traffic for that search term, so unless you're really ranking well for your keywords of choice, you likely won't see all that much traffic (depending on the search volume for the keyword). Getting to that top spot for any remotely competitive keyword takes some time, so while it can take awhile, it can be well worth it once you achieve that top spot. It all starts with good keyword research, however, so check out my post on what is a good keyword so you don't waste your time targeting bad keywords.