The other day I covered some tips on how to post to Craigslist to get more attention and click throughs on your ads as lately I've been using Craigslist to promote my mastering services. Obviously being able to blanket Craigslist with your ads would be great for you, but not surprisingly Craigslist doesn't want to see it.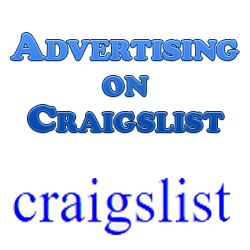 Advertising on Craigslist
So to keep you from getting your account banned, you've got to go to extra lengths if you want to get your message out there again and again. Note that if you're just looking to post once every day or two days, you don't need to worry about these techniques; these are for higher volume posters.
Today I'll cover some less obvious, more blackhat techniques for advertising on Craigslist to keep your ads up and visible even if you're posting a dozen or more times a day.
Categories
First off, you may not know precisely where you should be posting your ads given the number of different categories listed on Craigslist. Obviously the precise places where you should post will vary from niche to niche, but you can generally be pretty liberal with the categories which you choose if you use my following advertising on Craigslist tips, just make sure that it's relevant otherwise you will get flagged.
Copy/Title Spinning
I don't often recommend spinning, but this is one area where spinning can help you out and is worth it. Write your perfect headline (see how to write a great headline) and ad and spin it down to the smallest detail, then you can just plug in a spun version every time you go to submit and it should be okay if you've spun it at or beyond 100%.
Create Multiple Accounts
You should think about setting up lots of unique accounts to submit your content through. How many really depends on how much and often you want to post. Each account can post about a specific service once every 48 hours, so if you're always advertising the same thing then you'll likely need multiple accounts so you can hit different categories or even cities. Note that you will need a phone number associated with a Craigslist account just so you can get your confirmation code and post successfully, so you can use your home and cell phones, Google phone numbers, etc.
Vary Your Image Hosting
I talked the other day about why using images in place of or in addition to your copy in your ads is beneficial, but again if you're hosting the image or images you're using on the same site every time whether that's your site or a 3rd party site like Flickr, Craigslist will catch on, again. Therefore you should put the same image on multiple image sites for each account.
Varying Your Links
This is when it gets a little more costly because again if you're linking to your same site every time then Craigslist will catch on. Think about using multiple URLs if possible. If you've been creating a strong private blog network based around your niche you likely already have several URLs which you can use. You can also just grab cheap .info URLs for $3 a piece through GoDaddy and have them all redirect to your main site. When you buy 5 or more domains at once through GoDaddy you also get free WHOIS protection for a year for all of them which is the best deal altogether I've found.
Omitting Links and Numbers in Text Form
Certain things like writing out your website's URL or a phone number someone can call to reach you about your business is essential for generating leads and business, but again it's a trail which Craigslist can catch onto. Therefore think about putting this information prominently displayed in your image so that people will visit or call you without your having to explicitly write it in text or leave that clickable link to your site. The less of a trail you can leave while still getting your point across in your ad, the better.
Varying Your IP
Another thing which Craigslist looks at is the IP from where new ads are created. If you're posting everything from your IP, your ads will quickly get caught onto and Craigslist will ban you or keep you from being able to post. Therefore think about using a low cost $10 a month VPN like Hide My Ass which you can set to automatically switch IP addresses at intervals of your choosing or you can manually have it switch whenever you want.