There are a lot of SEO experts out there who know their stuff, but for every one of them there are at least a dozen more who think they know their stuff and are only too eager to spread false knowledge.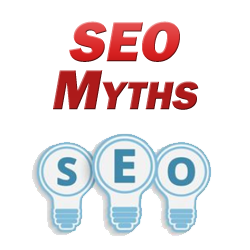 Here are 15 of the most scandalous (or as scandalous as SEO can get) SEO myths which will not die already.
SEO Myths
You Need To Submit Your Site to Google
One of the most common SEO myths is that you need to submit your site to google. There are lots of SEO companies, domain registrars, hosting companies, and others ready and willing to charge you to "submit your site to Google" with the threat being that if you don't you won't appear in the search engines and no one will find you. This is a hoax and your site and content can appear in Google immediately by doing any of these 8 free ways to get your website indexed.
SEO is a One Time Process
SEO is an ongoing process. On page SEO (see on page SEO factors) just takes a few seconds and only needs to be done just once in most cases unless you make significant changes to the content of that page, but to see your web pages individually rank in the search engines you need to constantly be building quality links to each of those pages.
Your Page Rank Significantly Affects Your Google Rankings
Google has gotten blue in the face reassuring people that PR is not nearly as dominant to rankings as others would have you believe. People spend a lot of time agonizing over their PR or lack thereof when they should be much more concerned with something like their Alexa rank (see how to increase Alexa rank). That being said, page rank is influenced by the quality and quantity of links which you have pointing towards that specific URL, so there is certainly a connection because there are similarities between the two, though not a direct connection. For more information, check out this post on how to improve page rank.
Duplicate Content Will Get You Punished
Duplicate content will never get you in trouble (unless it's overboard and intentional), it will only cause problems and that's only if the duplicate content is all on your page. Check out this post on the duplicate content penalty for a more detailed explanation.
External Links on Your Site Are Unnecessary
External links are necessary for proving to Google that you're not a link juice hoarder as they dislike webmasters who are too greedy about containing their link juice. That being said you don't want to be shooting holes all over your link juice cup by linking to everything you can. See this post on why you want to use the Rel No Follow tag in some cases.
You Don't Need to Use Meta Tags
Meta tags help search engines ID your content. While it won't do much to help you rank, some search engines place a greater emphasis on them than others and it only takes 2 seconds to add to each page or image which you add to your site, so use Meta Tags when you can.
NoFollow = No Matter
Acquiring NoFollow links to your site should still be a very important aspect of your link building strategy. Don't believe me? Check out these 3 reasons the NoFollow link is still your friend.
Keyword Density Is Paramount
This one is outdated as it gets, but some webmasters still are under the impression that there is a optimal keyword density. The only perfect density is to use your keyword whenever natural.
OutSourcing and SEO Go Together Like Milk and Cookies
You do NOT want to outsource your SEO and link building methods in most cases. No one knows your site, it's content, and your audience better than you do, so you should only outsource certain aspects of your online business. See this post on what to not outsource for more information on what you should and should not outsource.
Using Dashes in the Domain Name Itself Will Help
Using dashes in between keywords in your URL represents spaces and it's a good idea to use for your pages/subdomains (see the best permalink structure for information on how to get the best URL structure for SEO), but using dashes in domain names doesn't do anything for you in your top level domain name itself when you're registering it even if your keywords exist in the domain name itself; it will just look awkward which is why when you do see someone doing this it stands out like a sore thumb.
Once You Reach #1 You Can Rest
One of the worst SEO myths which people subconsciously fall into is retiring once they reach the top. SEO is an ongoing chore which is never done. Once you reach the top spot for the keyword which you are targeting, that's not Google saying congratulations, you're the best page for this content from now on. You have to continue to build links to that page to ensure that you keep that top spot as there will always be competition breathing down your neck trying to outperform your content.
ClickThrough Rate in SERPs Affects Your Ranking
It's nice to get lots of clickthroughs in the SERPs, but if this one were true it would be exploited faster than you can say "holy SERPs manipulation Batman!".
Quality Content = Quality Rankings
While I always stress quality content, it doesn't automatically generate great rankings for you. You need to build quality links to go with your quality content. The good news is that quality content is much easier to generate links to. Check out my 70 traffic sources for dozens of linking opportunities to your quality content.
High Bounce Rate Will Punish You
Check out this post on SEO bounce rate to learn why while a high bounce rate isn't ideal, it won't hurt your rankings.