Jetpack is a WordPress made multifunctional plugin which can take the place of multiple individual plugins. It launched in 2016 to mixed reviews and the reviews haven't changed much in that time.
Some folks love it, others avoid it like the plague with cries that it's essentially bloatware and will slow down site loading speeds. In this Jetpack review, we weigh the pros and cons to decide whether it's worth it or not.
WordPress Jetpack Review
Let's break this WordPress Jetpack review down and look at its various features, giving a grade to each.
With a variety of features, Jetpack can fulfill the role of multiple individual plugins, but how good are they?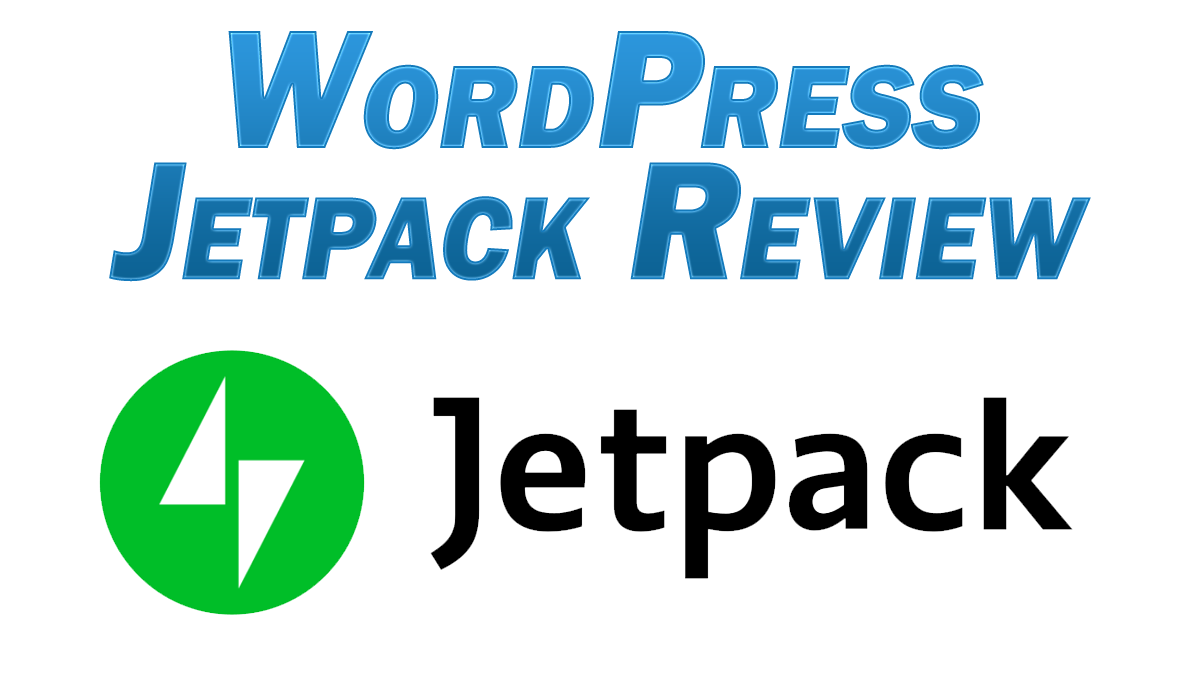 I should note before we get started that Jetpack offers a premium version with additional functionality. For this Jetpack review, I'm just taking a look at the free version.
Let's get started.
Security
While the premium version offers malware real-time scanning, the free version limits security to brute force hacking protection and spam protection. The spam protection is powered by Akismet, the default spam protection which comes preinstalled with WordPress.
The brute force hacking plugin specifically protects your site from outside login attempts which use common username and password combos.

I'm not sure how this enforcement manifests, but I tested this out (disabling my existing brute force protection plugin, Login Lockdown, in the process).
Whereas Login Lockdown prevents you from even being able to attempt logging into the site if you don't get the login right on the first 3 attempts, I found that with Jetpack I could try a couple dozen times at least without repercussion.
I was prompted to answer a simple math problem to prove my humanity, then was free to throw a few more failed attempts.
What was worse, I found, was that when I did put in the correct username with an incorrect password, the page acknowledged that my username was correct.
I don't want to give any potential hackers a hint that they're on the right track. Login Lockdown gives you the exact same message regardless: "either the username or password is incorrect".
With all of this in mind, I recommend that you don't rely on Jetpack's brute force security alone and utilize Login Lockdown to ban IP addresses attempting brute force hacks outright.
Performance
In the free version of Jetpack and regarding performance and speed, you have access to their Site Accelerator as well as the option to set your site to lazy load images.
I should point out that if you have any kind of caching plugin installed, lazy loading is built in with most of them as an option. This essentially means loading images last as a page loads so that the more important elements load faster.
Incidentally this is one of many ways for how to speed up your website which both delivers a better experience for your users and improves your website's rankings.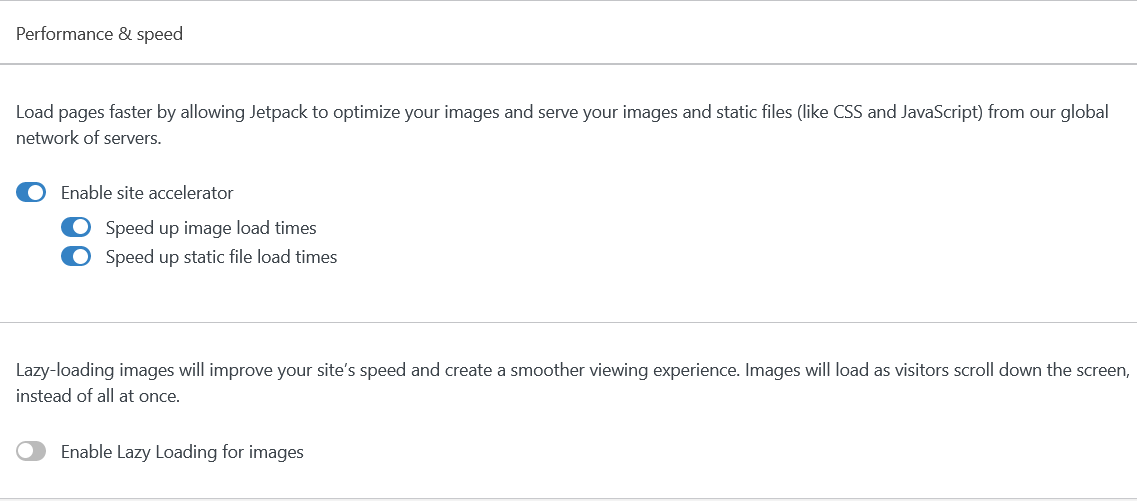 The Site Accelerator feature works like a content delivery network but exclusively for your site's images.
With this feature enabled, your images will load from external servers off of your site, freeing up your server and more efficiently loading the images around the world depending on your user's location.
I should note that Jetpack isn't a replacement for a caching plugin and you should still have a dedicated one to have your site running more efficiently, but its Site Accelerator works nicely alongside many of the caching options out there.
Writing
This is where we get into more niche features which nonetheless will be useful to many webmasters.
Media
The media section is for enabling the use of image carousels on your site. Many webmasters feature a carousel on their home page for a more dynamic presentation of their latest or most important content.
Composing
Composing gives you more options for creating your content.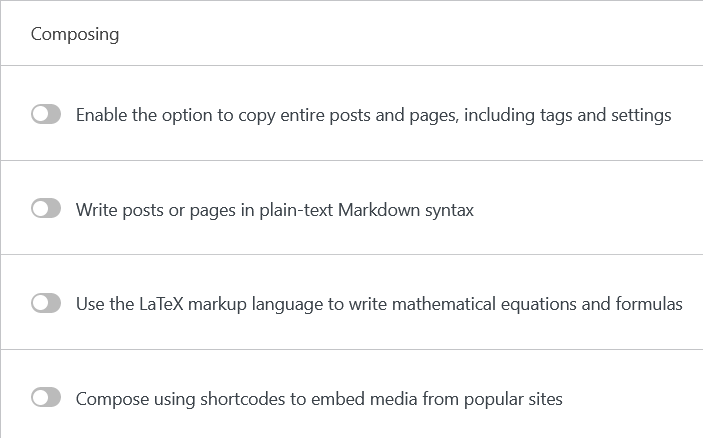 Notably this includes the ability to create duplicates of existing posts.
This is a huge time saver when you create a lot of similar posts working off of the same template.
If you have an online store (for example) where you create a lot of similar listings, this feature both saves time and ensures that the format remains consistent without issues if you manually pasted in the content from an older post.
This section also includes enabling the option to create content with plain-text markdown syntax or LaTeX markup for mathematical equations and formulas (a very niche specific option).
Custom Content Types
This allows you to include shortcode to easily embed testimonials or portfolios virtually anywhere on your site.
Theme Enhancements
This gives you the option to create an infinite scroll on your home page if you so choose so more content continues to load as an alternative to clicking the next page button.
Widgets
Enabling this gives you access to extra widget options on the widgets page. You can get a full list of the widgets this includes here.
Post by Email
You can post new content to your website via your email without having to visit the site with this feature. This is valuable if you don't have access to your site, don't feel comfortable accessing your site on the network you're on, or the connection is too slow to interact with your site properly.
WordPress.com Toolbar
Pretty self-explanatory, but this activates the WordPress.com toolbar in place of the normal dashboard toolbar. If you use your WordPress.com account, this can help you keep track of other sites you follow and your WordPress.com account.
Sharing
The sharing tab makes sharing your content with social networks easier and automatic when you publish new posts.
Enabling this feature will take you to your WordPress.com account where you can connect Jetpack/your site to Facebook, Twitter, LinkedIn, and or Tumblr.

Jetpack also allows you to add social network share buttons to your content on your site to encourage people to share your content with their audiences on those respective networks.
Discussion
The Jetpack Comments feature enables you to enhance the comment section of your site.
Specifically, it expands its capabilities to allow people to leave comments via WordPress.com, Twitter, Facebook, or Google accounts.

This encourages more topical engagement on your site as well as the specific page which can help the page to rank better.
You can also enable the option to let people subscribe to receive updates when they comment.
With this enabled, if someone ticks the button it creates, they'll get notified when there are responses to their comment.
This is a nice set-and-forget-it trick to encourage more repeat visitors to your site (an important Google Analytics user metric).
You can also set it to give people the option to subscribe to your mailing list when they comment, which is a nice way to build your list (see my email marketing guide).
Traffic
Jetpack's traffic section has several premium only features, but a few free features, as well.
The free Jetpack traffic features include:
Related Posts
When enabled, Related Posts identifies and shows links to other content on your site similar to that page.

You can choose to include a thumbnail with the related post to bring more attention to it.
This is a good way to keep people on your website, so I recommend enabling this if your theme doesn't already give you this option.
Search Engine Optimization
Jetpack's Search Engine Optimization options are pretty lacking. I recommend a dedicated SEO plugin like Yoast to give you a lot more functionality and control over how your content is presented to Google and other search engines.
If Yoast or another plugin is enabled, Jetpack will acknowledge that the other plugin controls your SEO.
Site Stats
Jetpack's Site Stats is basically Google Analytics lite. It shows the number of visits to your site in a given period of time, and you can exclude or include visits from people will permissions/account on your website who help manage your site.
Check out my guide on how to add Google Analytics to your website and get the complete picture of your site's stats.
WP.me Shortlinks
This allows you to create shorter links to pages on your site, intended for situations like Twitter where you have character limits.
Site Maps
A site map helps search engines understand your website and its content, helping your rankings in the process (check out my quick guide on what is a site map for more information). The aforementioned Yoast SEO plugin does this for you, so don't bother with this feature.
Site Verification
Site verification is for verifying that you're the owner of your site with Google, Bing, and other search engines.
It's only necessary if you're trying to connect your website with them like in the case of adding Google Search Console for your website.
Jetpack Speed Impact
The only other thing to address is Jetpack's impact on your site's speed.
In checking my website's speed with the plugin enabled and disabled (clearing my cache in between), there was no discernible difference whether the plugin was on or offer.
With Jetpack enabled:

With Jetpack disabled:

Technically the scores vary each time you test your site's speed; sometimes the with Jetpack score was higher, with it enabled, sometimes it was lower.
Ultimately there was literally no reliable difference in speed with the plugin on or offer.
This lack of difference can be attributed to a wash between the weight of the plugin and its performance boosts, but more likely it's just not a discernible swing one way or the other.
Regardless, this lays to rest the arguments that Jetpack is a bloated resource hog.
WordPress Jetpack Review Summary
So what's the verdict in this WordPress Jetpack review?
While Jetpack isn't the all-in-one plugin solution that its creators would have you believe, it's not without its uses.
It's also not anywhere near as bad as some critics would have you believe, with most of the bad reviews coming from folks who are solely interested in fashionably piling on.
And no, it won't slow down your website, and you can obviously pick and choose the features it runs.
In short, the truth is closer to the idea that there are a few features which can help it take the place of a small handful of individual plugins.
Some features I recommend and use myself include:
The Site Accelerator for loading images faster and putting less stress on your server.
Copy and paste posts.
The social sharing feature to autopost to Twitter and or Facebook whenever you create a new post.
Extra widgets.
Related posts.