Welcome to my Google Analytics Tutorial series. This series is to teach you everything to know about Google's free analytical service for getting up to date stats on your traffic and the performance of your website as a whole. To kick off this Google Analytics tutorial, you need to first know how to add Google Analytics to your website.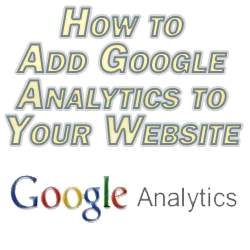 How to Add Google Analytics to Your Website
It's a very simple process in which you simply sign up for your analytics account if you don't already have one, create an analytical profile for your domain of choice which you want stats on, then add the code which it gives you to your website.
There are a number of ways to do this and I cover them all in this video so that you can add this to your website within a minute or two: