Awhile back I did an overview on buying and selling sites which talked a lot about Flippa. I made that post because at the time I was selling off a number of my affiliate websites which I either just didn't have time to keep up with them anymore or I just wasn't making enough money from them to warrant keeping them around and could have made more by selling them off. Nowadays buying websites is an effective SEO tactic in addition to being a chance for you to make some extra money for yourself. Let's talk about why you should be buying websites.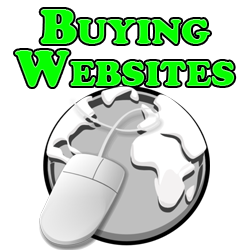 Buying Websites
First and obviously you can monetize an existing website which you buy. The advantage of buying an existing website by way of an auction or just paying the owner directly is that you get a domain which ideally has been established in terms of link and age.
Older domains are seen with more authority in Google's eyes, and the older it is, the more quality links it likely has. All of this is to say that getting an older established domain at auction will generally be much easier and quicker to rank well versus registering a new domain from scratch which will take time to prove to Google that it's worthy of a good ranking no matter what you do for it in terms of SEO and link building.
When that website ranks faster, you can monetize it and see a quick return on your investment if you know what you are doing.
On the other hand, maybe the aim isn't to rank that website but to use it for its established link juice and authority, passing it on to your existing money site.
I've talked a lot about private blog networks and how they'll work for you if you keep them private. You can either develop your private blog networks with all new domains from scratch, OR and more ideally you can throw in a handful of existing authoritative domains to spread link juice around.

It's all about being or looking as natural as possible on today's Google, so it will obviously look suspicious if you register 10 domains or so all in the same week or day, even if you keep them on accounts from different hosting providers.
Therefore, you might think about creating a mini site of just a handful of pages which will link back to your money site/main site which you want to rank. The more influence in terms of domain age/authority/link juice that bought domain holds, the more its going to do for your main site.
Speaking of influence, in an upcoming post I'll be talking about how to appraise an existing domain or site which you are interested in buying, so check back for that.
Where to Buy Domains
In terms of where to buy domains, you have a number of options. First, you can go with domain registrars themselves, most of whom all have regular auctions on thousands of defunct, expired, and for sale domains which were registered or transferred to them. I recently did an overview on how to use GoDaddy's domain auction as they are the largest registrar who does auctions.
You can also go to retailers and wholesalers such as Sedo, NameJet, or SnapNames. You'll find that your searches aren't limited to just expired domains but also you can find existing domains to make offers for, so nothing is really off limits if you have the pocketbook to back it up.
If you are interested in selling, you should definitely think about taking it to a high profile seller site like one of the ones I mentioned above to get the most attention to your commodity.