Wikipedia dominates the search engines and is one of the most trusted websites around which explains why Google and other search engines allow them to dominate. Because Wikipedia isn't owned by anyone trying to push or sell anything on anyone and its purpose is just to offer great information without any incentive, Google rewards them with a great ranking for most keywords where it's applicable to do so. Therefore, if you can't beat em', join em', which comes in the form of getting links from them, so let's talk about how to get links from Wikipedia and with that, its valuable traffic.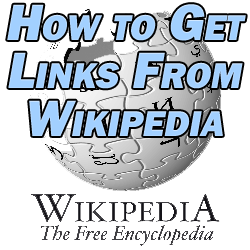 How to Get Links From Wikipedia
Wikipedia is a free online encyclopedia for the world, meaning literally anyone with an Internet connection can edit pages and information on Wikipedia (for better or worse). This means that you can edit a page related to your website in subject matter and add information from your website to generate a citation/link back to your site right from Wiki itself.
So if you have a website about cars, find pages related to the kinds of cars you write about on your site and add some valuable information to that page on Wiki. The important takeaway is that you need to copy basically what's exactly written on your page and then just add a citation/reference to that section of the Wiki. When someone clicks on that little number it will take them down to the references section where you'll have a link to the page on your website which says the same thing.
If it's a heavily trafficked page on Wiki then you've just picked up some valuable traffic. The link won't give you any link juice but I guarantee Google will take notice when a trusted site like Wikipedia is sending traffic back to your site on a regular basis. You may pick up some natural links this way, as well, from webmasters who went to Wiki in the first place for more information on their site's topics.
You can also link to helpful and related videos on YouTube which you've uploaded to help them rank higher, as well. You might even put two citations in the same area on a page on Wiki so you'll have a greater chance at snagging some traffic to your content one way or another.
One of the greatest things about traffic you'll get from Wikipedia is that it's already extremely targeted for whatever your topic is, so you know any traffic coming to your site from a Wiki page is much more likely to result in some sort of conversion.