One of the traffic sources from my recent post of over 70 traffic sources covered solo mailing. Solo mailing is an absolutely explosive way to generate huge traffic with unique and very targeted visitors in the thousands overnight to whatever destination page you like. So what is solo mailing?
What Is Solo Mailing
A solo mailing is essentially just paying someone to blast an email of yours to their email list. There are hubs like the Warrior Forum Joint Ventures section to connect you with the owners of huge mailing lists, or you can contact them directly if you're maybe already a member of their list or are at least aware of it. You can negotiate the fee which you'll pay for your blast to strike a balance which you both agree upon as being fair.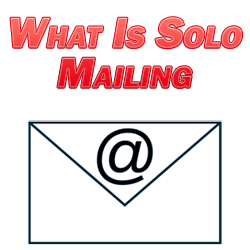 Obviously you'll want to stick to list owners with subscribers which are relevant to your niche, otherwise you're wasting your time and money or more likely that list owner will refuse to send out your email.
Still, when properly orchestrated, a solo mailing can be used to send floods of traffic to whatever offer of yours that you want. You can send them to your website to hopefully pick up some new dedicated readers; I've found that a squeeze page connected to a sales page oftentimes works best, however.
If you've got a product of your own to promote then this should definitely be the course of action to take. You have the squeeze page in place to capture emails and you can forward them to and sell them on your product and it's page after they sign up.
It goes without saying, but your copy is EXTREMELY important when it comes to a solo mailing. You only get one shot, and you don't want to waste however much you paid for the blast with ineffective copy with a weak or no call to action.
Of course on the other side of things, you can charge others to blast emails to your list if you've got a substantially sized list in the thousands or more, and this can be a powerful revenue source for you, as well. Of course you don't want just anyone sending out an email to your precious list. You've worked hard and spent a lot of time and possibly money to get your list to where it is today, so you don't want to turn off your own subscribers by allowing unrefined marketers peddle inferior wares.