Affiliate marketing is the best way to make a living on OR offline. Yep, it's true. Think about it: you can promote whatever you want because there are affiliate offers tied to virtually every product or service that's out there imaginable, you're your own boss, and the harder and smarter that you're working, the more money which you will be making.
Speaking of smarter working, let's talk about it affiliate marketing and how to get started.
Affiliate Marketing How to Get Started
The absolute best way to get started with affiliate marketing is to take my 100% FREE "10 Day Fast Track Training Course" which you can sign up to in the box to the right. You can check out more info on it here.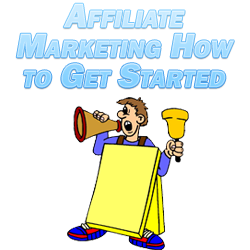 This teaches you everything you need to know to make serious money in affiliate marketing in 10 days and I don't charge you a dime to learn it, so I encourage you to sign up.
I'll tell you about what I teach you in the first couple of days with the course, however, because this focuses on how to get started in affiliate marketing.
First you need a website before you can do anything else. Don't cringe if you've never done this before (I can hear you). It's extremely simple to get an attractive but powerful website these days. You just need to register a domain which is for the URL of your site (my domain is ConvertingCopy.com).
If you purchase through my GoDaddy link, you can get roughly 1/3 off of the registration costs for a .COM domain. Nice.
The other half of the coin is you need hosting, as well. This means actually keeping your website and it's content online so that people can access it, and if you purchase through my GoDaddy hosting link, you can get hosting as cheap as $2 a month. You can't beat that!
Refer to this video on how to set up a website to see me actually walking you through domain registration, getting hosting, and putting your website together and online using free software called WordPress which I use for a lot of my sites.
Once your WordPress site is up, I have this video on how to use WordPress to show you how to customize the look of your site and get it set up to be search engine friendly.
After your site is online, you should sign up for a few affiliate networks which have products which you want to promote on your site. If you click on the "Make Money" menu tab above, you'll see a few of my favorite affiliate networks which are likely to have products which you can promote on your site. These are all networks which offer great commission rates, as well.
From there you need to write a review of that product. Ideally you'll have tried the product yourself first or at the very least you can read other people's reviews. I always try every product which I review first and urge you to do the same. Many product owners are generous in giving you a test copy for free as they just want more promotion for their products out there.
After you have your review with your affiliate links within the review on your site, you just need to generate traffic to your website to see the money start coming in. Rather than repeat myself, I'll direct you towards this huge list of 70 traffic sources which I recently wrote up. Tap a number of these traffic sources and you'll start seeing your visitors flooding in and with them your sales.
Don't forget to tweak your site in terms of design and copy over and over to see what converts best based on the traffic which you are sending towards that site.
And there you have it: the streamlined way to get started in affiliate marketing. There's A LOT more to cover from keyword research to content creation tips to social networking tips and more, so again sign up for the complete 10 Day Fast Track Training Course below to learn the rest: