As most of you are aware of, as an affiliate marketer and webmaster, we are required by the FTC to include a (visible) disclosure policy on any websites we own which have even as little as one affiliate link on them to our readers.
How to Make Your Own Affiliate Disclosure Policy
What is Disclosure?
Disclosure means that you're revealing or disclosing something to your readers. In this case, the purpose of the disclosure policy is to make anyone visiting your website aware that when you recommend a product or service, you are compensated in some form so that the reader can keep that in mind.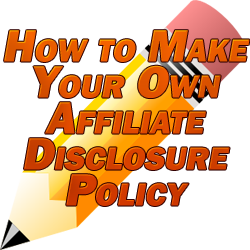 It's up to you to specify in your disclosure policy the exact details of your relationship with product owners. For example, if you are given a free copy of a program in order to give a review of it, you have to disclose this to your readers.
The FTC only requires that you make a disclosure policy and make that disclosure policy visible everywhere on your site; they don't force you to write a specific policy, so you're free to write your own so long as it reveals any compensation which you receive.

Whereas a lot of webmasters begrudge having to include a disclosure policy on their sites, it doesn't have to be a burden on you. The obvious assumption is that if you're disclosing to every reader who comes to your site that you are essentially being compensated for recommending a product, your recommendation is heavily biased and therefore the product itself likely is of lower quality than the picture which you have painted.
This is why I recommend that you write your own disclosure policy as opposed to getting bogged down using technical legal mumbo jumbo from a disclosure policy generator which WILL likely scare your readers.
Here's my disclosure policy which I wrote myself. Note that while I disclose that I get compensated by some of the affiliate links on this site, I also disclose that virtually everything I'm promoting has a money back guarantee with it.
Most importantly, I point out that if someone returns something which I promote, I lose that commission just as quickly so therefore it's in my best interest to only promote high quality products (see how that works). Finally, I point out that I use everything which I recommend myself and will never promote anything which I don't promote.
Also note that I've included a link to this policy on every single page of my site either from my main menu under the "about" tab or at the bottom of every page as one of my footer links.
I'm very proud of my disclosure policy as rather than scaring my readers and poisoning them against me, it just helps to reinforce my position as a transparent webmaster who promotes only the highest quality products and services which I use myself.
Get creative with your disclosure policy. I've seen some webmasters make a joke about it, blatantly calling out an affiliate link as a "big scary affiliate link" or explaining in their disclosure policy that affiliate links are how they put food on the table for their kids. Have some fun with it, be creative, only promote quality offers, and most importantly always practice transparency and you and your reader will both be much better off for it!