Guest blogging is one of the few win win and seemingly perfect tools in online marketing today. The guest blogger gets their writing, name, and links in front of a brand new audience, and the blog owner gets great content which they didn't have to write on their blog.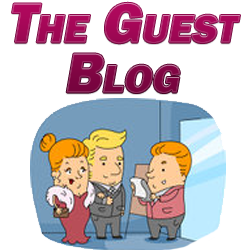 The Guest Blog
Based on this concept but taking it one step further, the "guest blog" is beginning to emerge as an SEO powerhouse. Many of the top Ad Age blogs are built exclusively upon content from an ever expanding collective of guest bloggers while being moderated by just a couple of people; so the focus is almost entirely on the guest bloggers who come in and share their content.
This enables these "guest blogs" to rank very well because they are outputting high quality content and at a high volume level at that, plus they get floods of traffic because these blogs both bring in the audience of the guest poster and very easily develop a huge audience of their own as hundreds of new audiences are being brought in to the blog each month.
Large audience + great content = lots of social sharing; one of the most important up and coming search engine algorithmic factors in ranking a page.
But wait! Lots of "guest authors" creating lots of content for one site; does any of this sound familiar? You could draw some comparisons between some of these guest blogs to content farms; you know, those massive sites which have staggering amounts of par or sub par content being added daily.
While there are some similarities, the difference is in the quality and exclusivity. Not just anyone can write for a guest blog. The moderators of the blog have a screening process and have expectations on what you're writing once you do get the green light to post something on their site. And any guest blogger who gets the chance to write for a highly respected guest blog with the promise of highly targeted traffic, indefinitely so if it hangs around the SERPs which its more apt to do on a guest blog, is going to take it very seriously and write their absolute best content, and that's no small thing.