Affiliate marketing is very different than it was even just a year ago, and it's even more so than it was 2 or 3 years ago. In the past, short term marketing was a completely viable option. You could throw together a quick landing page with an affiliate offer.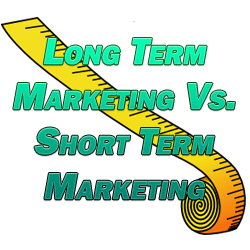 Long Term Marketing Vs Short Term Marketing
When picking a niche you can either go with something which you have an existing interest in or conversely and obviously you can pick something which you don't. This is the most important thing to consider when you are picking a niche because it dictates your strategy from there in. Okay, stick with me here, but I believe that there are two methodologies when starting a new site: short term and long term.
With a short term site, you're planning on doing some quick promotion to that site through paid advertising or other short term promotional methods. Basically I'm talking about methods to get targeted traffic to that site relatively quickly with little commitment and with little content on your site itself beyond perhaps a few product reviews.
With a long term site, you're constantly building quality content right on your site. You can still use paid advertising and any other promotional method, but the intent and methods differ in that you're out to develop an authority site over time which will rank well and span potentially hundreds and thousands of pages of original content.
Typically the fundamental difference between the two (besides the focus being creating content on site with the long term solution) which I find when I'm creating a new site is do I have an existing interest in that topic/niche myself. If I do then making money is more of an afterthought. I know it will come in time as I build up that site which I'm happy to do because I'm already interested in it.
If I have no interest in a niche and I'm really just trying to grind some money out of it then there are a few ways which I can go about picking a niche and testing it to see if it's worth the effort and there are customers out there who are interested in spending money.
Generally, niche selection won't apply as much to long term marketing via authority site because you're not going to commit to something long term potentially for years and years if you have no existing knowledge of it.