One of the best things to help you rank in local SEO is to get your citations on as many local business directories as possible. Make sure your NAP (name, address, phone number) information is consistent across every one of these directories. Keep this local SEO directory checklist in mind to ensure that you're getting the most out of this huge SEO resource.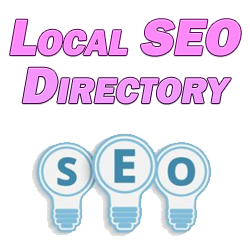 Local SEO Directory
Consistent means always typing "Street" if that's what you go with rather than mixing in "St." for every 5th listing because you forgot or got lazy. Another example is to keep your phone numbers consistent, so if you put in the number 123-456-7890, keep the dashes every time you put that number in.
And now, a sample of the more relevant local place directories and social networks where you want to be listed. Remember, the more you hit the better:


Google Places/Plus – If you want to rank well in Google (and you do) then you need to get your local business on Google Places first and foremost. Check out my guide on how to get on Google Places and how to optimize your Google Places listing and account. This should be one of the first things you do once your site is set up.
Facebook – Get a page on Facebook for your business.
Bing Places – Claim your listing on Bing Places, as well. This may not help you rank in Google, but it'll certainly help in Bing which will be another valuable source of traffic.
Yahoo – Get in Yahoo's local directories, as well.
Yelp – Everyone knows Yelp as being one of the premier and most popular business listing and review directories, so take advantage.
Yellow Pages – Remember that big book of local listings known as Yellow Pages? They're still around but predominantly in web form nowadays.
Superpages – Same deal. In fact most of these are incredibly similar, and your goal on each is exactly the same, so I'll cease with the descriptions and just tell you to hit them each for another citation.
Foursquare
Localeze
Expressupdate
Factual
eLocal
CitySearch
Best of the Web
Acxiom
Hotfrog
Infogroup
There are plenty more but there's a good list to get you started. Make sure your information is consistent across all of these directories. Some allow you to put more information in than others such as business hours, link to your website, etc. Be as thorough and offer as much information as you can for each service (making sure it's consistent across any other directories or sites you include it on).
Also get as many reviews on each service as you can. All things being the same, a business with the same citation profile as a competing local business will rank better if it has more and better customer ratings.
Finally, keep records of each of the directories you've listed your NAP with so you can check them once they go live (if not immediately) and ensure they're consistent with your Google Places listing. Also you'll want to keep a list so you can more quickly update each one if any aspect of your NAP changes in the future.