Google Places is essential if you're a small business owner, regardless of whether your small business is unique or a franchise of a well known company chain. Getting in Google Places gives your business a sizable leg up over your competition and will help your site rank organically in Google, as well, and in this post we'll cover how to get on Google Places.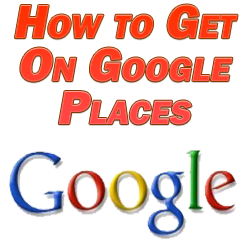 How to Get On Google Places
What is Google Places?
Let's first identify what is Google Places exactly. Google Places is a free service offered to all brick and mortar business owners. As the business owner, you submit your business's basic details such as location, phone number, name, etc., to Google Places.
To see it in action, do a search for something like "your city" + "dentists". Somewhere in the organic listings, below the paid Adwords ads box, you'll see a few of the dentists which submitted their business information to Google Places all sorted together in a vertical block, typically with letters "A" through "F" or "G", with the letters corresponding to their placement on the local map which is set up on the right so that you can see where these businesses are located via Google Maps.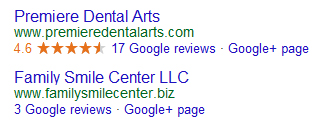 Each entry has their business's name, address, and phone numbers listed, along with the URL of the business's corresponding website, a link to that website, a link to their Google+ page if they have one, and any ratings and links to reviews they've accrued.
The cool thing about getting your business in the 6-7 Google local listings here is that you can simultaneously exist here and outside of the local listings, meaning your site can also appear in the SERPs below or even above the local listing block. This gives your business double the exposure and double the chances someone will click through as this reinforcement not only makes you more visible but gives your brand more trust.
How to Get On Google Places
Now that I've covered how you can get more traffic using Google Places, let's talk about how to get on Google Places.
First, go to http://www.google.com/places/. Note that you'll need a Google Account to do all of this which means a Gmail based email address. You can create a new one if you don't have one or if you already have one and don't want your business associated with your existing email account.
Once you're signed in via Google Account, see if Google already has info on your business. Add a phone number or name of your business. So if you owned a franchise of a coffee shop, it's likely that you're already on the map and in the system but you just haven't claimed ownership of it yet.
If you can't find your business, simply click "add a new listing" under the Gear icon dropdown menu. First fill out your basic information from business name, address, phone number, website, etc. If your business is located in another business, an example being you have a restaurant in a mall, specify this in parentheses in the business name field, so "Fridays inside Oak Crest Mall".
You'll be prompted next to categorize your business from different a number of choices and subcategories. You can enter up to 5 categories for your business, so you can be as specific as you like to cover all your bases. You can choose to list your hours of operation or hide them. Choose the payment methods your business accepts. Add at least one photo or even a video to your business, as well. If you don't have any photos yet, it's a good idea to at least get a picture of the exterior of your building to make it more recognizable to your customers when they're looking for you.
Not only do all of these specific details you're listing about your business help customers get a better expectation and understanding of how you operate, but Google loves this as well.
Once you've finished entering all of this information, you'll need to verify your local listing via telephone. Once you've submitted your info and verified, you'll need to wait for Google to verify things on their end which can take up to a couple of weeks, so the sooner you get it done the better.
You'll be able to see your local business listing live in Google by signing into your Places account and clicking "see your listing on Google" so that you can see how it looks to users. If any data is incorrect you can report a problem via the "report a problem" link.
Next week I'll talk Google Places optimization so that you can land that top local listings spot and see your normal SERPs organic rank boost, as well, through a few tips and tricks.