Ezine Articles is the largest article directory on the internet and my first stop when it comes to article marketing. While article marketing took a slight hit from the Google Farmer Update, it's still a great way to bring in some quick traffic to your website as well as a link two of link juice for free. There are plenty of other notable article directories which are worth submitting to, as well.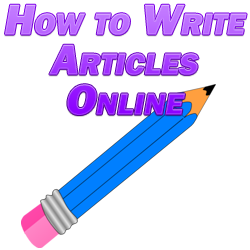 This article will explain how to write articles online for Ezine which is a good template to use for any situation when it comes to writing articles which will bring in serious traffic.
How to Write Articles Online
Start off with an eye catching title which revolves around whatever keyword it is which you are targeting. Integrate that with a title format which usually nets a lot of views. "# of Tips or Steps" articles as well as "How To" articles generally perform pretty well. Choose a category which relates to the topic of your article. If you don't, Ezine will typically reorganize it for you, so if you're not sure of the best category to choose for your article, just do your best.
You need to write a summary for your article, as well. You can write your own, but I typically take from the first couple of sentences of my article, that's fine too. If you don't have anything which will grip people's attention in your article, then write a unique new summary in that section, though you should probably reexamine your article if there aren't any exciting parts you can pull from.
Don't go overboard with your keyword density. Ezine Articles actually lets you know if you've exceeded their limit of 4%, so you can't use any keyword to make up more than 4% of the total copy of the article. Ezine also now has a minimum requirement of 400 words which was likely ushered in thanks to the Google update.
Ezine is trying to increase the overall quality of their content/articles, and this is one aspect of that. Remember that while any changes which Ezine makes may frustrate you at first, they're all in order to appease Google and the other search engines, thus ensuring that your content on Ezine gets a higher ranking in the search engines and more people see your content.
You don't have to adhere to the 3 body paragraph format which most of us learned in grade or high school. I recommend breaking your content into as many paragraphs as you can for the most part because people generally prefer to read a larger quantity of smaller paragraphs as opposed to a smaller quantity of larger paragraphs which are harder to get through and keep your place in.
Finally, finish off with a powerful call to action in your resource box. Your resource box This is the copy which pushes your reader over the edge into taking your desired action of visiting your site. I have a huge list of 60 call to action examples which you can check out.
Make sure to make effective use of your anchor text rather than just using a plain URL as your link. Using a hyperlink with your keyword as the anchor text is much more effective for SEO purposes.