I'm about to extend my affiliate product to DigiResults. One of the things which separates DigiResults from a Clickbank is that with Clickbank anyone can instantly promote your product. They are held in check and made sure that they can't cheat you the merchant because Clickbank doesn't pay out affiliates on commissions which they've earned for a couple of weeks. When a customer requests a refund, that commission is debited from the affiliate's account.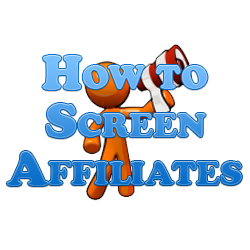 How to Get Affiliates
On the other hand, with DigiResults affiliates and merchants are paid instantly; a very attractive aspect for affiliates and merchants alike. The downside is that this gives room for more disreputable affiliates to con merchants (think closing out their account very soon after generating some sales so that any refunds are left in full 100% for the merchant to pay for themselves).
Therefore, it behooves anyone using DigiResults to know how to screen affiliates to ensure that you only have the most reputable affiliates promoting your product. The best thing which you can do is to send all new affiliates who apply to promote your product an email in which you ask them or make note of these 3 key things.
Website – First and foremost, ask all new affiliates what the URL is for the site they plan on using to promote your product so that you can check it out.
Marketing Strategies – Most affiliate networks which you apply to will ask you how you plan on promoting their offers. This is a great question because it weeds out the phonies, so ask your potential affiliates which marketing techniques which they use (PPC, email marketing, SEO, etc.).
Email Provider – Check out their email provider. Ideally they'll apply to your program using a custom URL for the website they'll promote your site through. You likely want to be wary of hotmail or yahoo accounts as these are typically used for spam over and over again.
Also, be sure to block affiliates who have already been approved but later turn out to be fraudulent. DigiResults has a block affiliate ability so that you can add an affiliate's email address so that you don't have to waste time with them again in the future.