As I have mentioned before, different affiliate networks have different screening processes. Some let you join no questions asked whereas others at least have an application which you have to fill out which can be followed by a brief phone call with someone from that network in which they'll ask you questions relevant to your application. The more demanding networks simply want to be sure that you're a serious marketer, so you've got to make it look like you know what you're talking about and doing. In this article, I'll talk about how to get accepted to any affiliate network.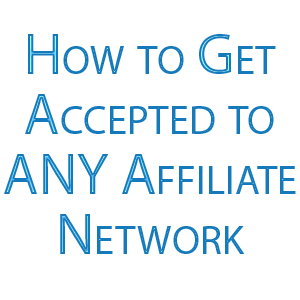 Keep in mind that the more money you make, the more money they'll make, so they want dedicated affiliates looking to make good money for all involved.
This method is straightforward but is all but guaranteed to get you into any affiliate network which you are interested in joining.
How to Get Accepted to ANY Affiliate Network
First off, it's essential that you have a professional website of some kind.
I recommend that if you don't already have a website that you decide on a niche which you'd like to promote, then register a URL based on that niche.
Make sure that the affiliate network you go with obviously has offers relevant to your niche/site (see how to pick the best affiliate product).
It also helps when filling out the application to use a professional email address which is linked to that website which you can get through the company which you registered your domain with.
A professional email address is just that: an email address @yourwebsite which looks much more professional compared to a free email address through Yahoo, Gmail, or anything of the like.
Your website should then have some content on it.
Assuming you have just registered a new website, a fast way to set up your website is to install WordPress and throw up a quick theme, grabbing privacy policy and contact section plugins (Google AS WELL AS affiliate networks like these), and make around 10 quick posts pertaining to your niche.
You can grab PLR articles (see where to get PLR content) the net which are free articles which anyone can use for any purpose and throw them up on your site, though the quality likely won't be as good.
When filling out the application for the affiliate network, you have also got to figure out which methods you'll be using to promote the network's offers as this will be one of the main questions on the application.
It really doesn't matter which methods you give whether it be paid traffic, SEO, etc.; just pick a few and be prepared to talk about them briefly with a representative over the phone.
You might also have to give the name of another affiliate network which you promote.
I recommend putting Clickbank if this is in fact your first affiliate network which you have had to apply to as it's immediate to sign up with them so you don't have to lie about being a member of another network with stricter rules.
After you submit your application, I recommend that you maintain one new post to your site per day while you wait for your application to get reviewed.
Sometimes representatives from that affiliate network will check out your site one day then check back in another so it helps to show that you're adding content to your site on a consistent basis.
You should get a call within a day or so from a representative from that affiliate network and they'll basically just ask you a couple of questions based on your application.
Just keep your answers short based on their questions and sound confident like you know what you're doing.
I remember when I applied to my first network I basically told them the methods I used to promote Clickbank (which I started with) products and how I was looking forward to promoting different kinds of offers which they had on their affiliate network using the same proven techniques.
That's basically it. They want to work with confident and energetic affiliates so play the part (like you should be regardless).
If that felt like a lot of work, don't worry as it always gets easier with each network which you apply to and you can reuse the same methods to get accepted to any site now in a fraction of the time without having to create content again just to get accepted as you should already have a decent site going by the time you apply to your second affiliate network.