PLR stands for private label rights. A PLR article essentially means that anyone can use it as if they wrote it themselves; hence the popularity of PLR content. Why would you be interested in PLR content?
Where to Get PLR Content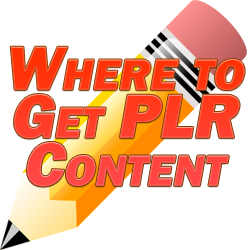 English isn't your first language or you're simply not a great writer.
You don't have time to write it yourself.
You're unfamiliar with your subject matter.
There are likely a lot more reasons, but the point is that rather than outsourcing your content creation to someone else which can be expensive, your other alternative is to obtain PLR content. You can pay for it or find it for free. In this article we're going to cover where you can get quality PLR content for your site.
Note that whether the PLR content sites I offer are free or premium, you should always exercise diligence and edit these articles if possible to make them unique. This is recommended simply because you don't want to have the exact same word for word content which other webmasters have published on their sites before you have. Google will rank theirs over yours because it was there first in many cases; so unless you're using this content in such a way that search engines won't have access to it (like in email copy), you should make some changes.
The first place I'm going to direct you for finding tons and tons of free PLR content to use is PLRArticleDirectory.com. This is a site which offers 18,000 free PLR articles on a wide variety of subjects and topics to meet any webmaster's needs. No registration is required; it really is just thousands and thousands of free content on a variety of niches which you can likely make use of.
PLR-Packs.com is another option which has less articles to offer than as compared to PlrArticleDirectory.com (5,000) but still a lot of quality content which is just waiting for you to grab it and use it for yourself. The catch is you have to sign up with your email address and name but after you've signed up you get access to all of that PLR content with no other barriers.
http://www.theplrmart.com/ is a premium site which is good for niche content in both eBook and article formats. This is a premium store where you pay per article or eBook. The healthy selection of niches and eBook content can be great for most any niche site. By purchasing a quality PLR eBook on the cheap for your niche, you instantly have a very quality and attractive incentive to offer your readers and because it's for download only, you don't have to make any changes to it (besides maybe adding some of your own affiliate URLs) at all; highly recommended.