It's useful to know how to get a custom YouTube URL for branding purposes and to have an easy to navigate to URL to point people to when promoting your channel/site. In this article we're going to cover how to get a custom YouTube URL.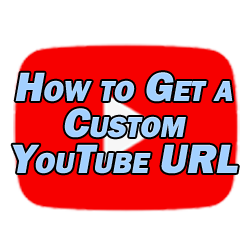 How to Get a Custom YouTube URL
Before you can get your custom URL in YouTube, your channel in question needs to meet a few requisites in order to be eligible:
You need at least 100 subscribers.
The channel must be at least 30 days old.
You need to have uploaded channel art.
You need to have uploaded an image for your channel icon.
The only real hurdle there is the 100 subscribers requisite. Check out my video on how to get more subscribers on YouTube to hit that 100 subscriber threshold quickly.
Once you meet all of these requirements, you can claim your custom URL by first navigating to the "Settings" of your channel. Do this by clicking on the profile avatar when signed into your YouTube account in the top right corner of your browser. Select the "Settings" option from the choices.
Now from the left navigation settings menu, select "Advanced settings". This will bring up a page which should look like this: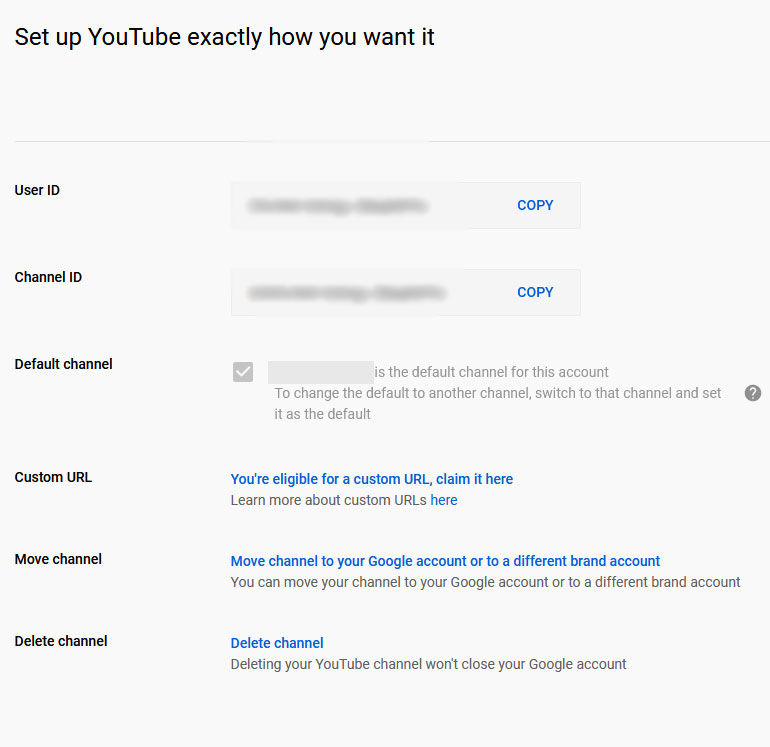 If you're eligible, next to "Custom URL" you'll see "you're eligible for a custom URL, claim it here".
From there, it will prompt you to set your custom URL.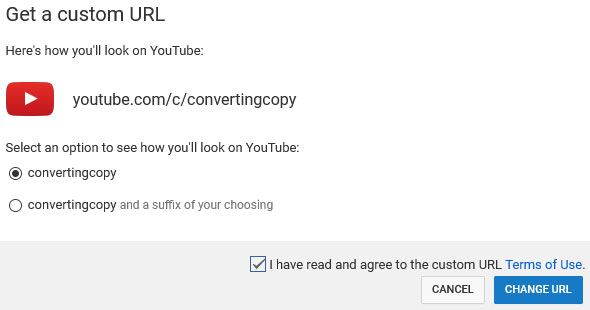 You'll notice in the above image for Converting Copy's YouTube that this isn't entirely customizable. Your channel name has to be included in the custom URL. Note that you can add on to the URL using the second option shown, but your channel's name is still included.
Once you've chosen the URL you want, click "confirm choice" and your URL will be set. Be sure that you have the URL you want, as YouTube says you're not allowed to change this down the road.
How to Get Rid of the "C" in YouTube Custom URL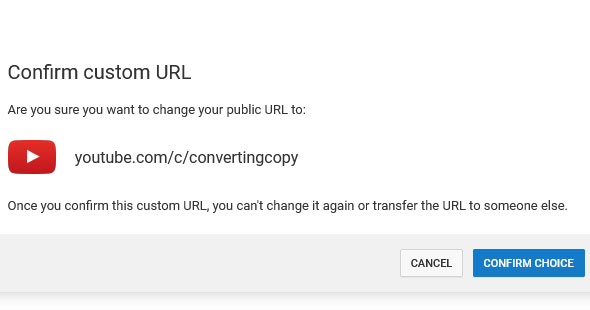 Once you have your custom URL, you might be curious about the "C" between youtube and your channel's name in the browser. The "C" stands for custom, but the good news is that when you're linking to your YouTube channel, you can make the URL without the C and it will direct to the right URL.
So while there's no way to "remove" the C, it's unnecessary when linking so it shouldn't be an issue.