Google Ads versus Facebook Advertising. Pay per click or PPC is a great source of traffic for a number of reasons. First and most obviously, it affords you the opportunity to generate and sent instant traffic toward virtually any page of yours (so long as it complies with the advertising network's guidelines), so you do not have to waste time trying to rank a page before you can find out whether or not that your page, copy, offer, etc. is lucrative (see how to gauge keyword commerciality) and worth your time with whatever goal which you are trying to accomplish.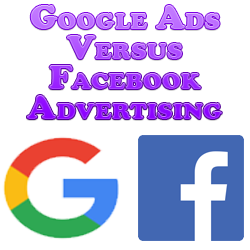 Google Ads Versus Facebook Advertising
Secondly, PPC advertising is important because it is its own form of web traffic to send to your site, meaning that it is separate from organic SEO or other forms of traffic. Traffic diversity is essential because putting all of your eggs into just one form of traffic (as copious or as highly converting as it may be) is far too risky as no one form of traffic is bulletproof whether it's paid or organic; the slightest change to an algorithm can diminish that source of traffic to a trickle. This was recently exhibited in the closing of one of the largest "private" blog networks, Build My Rank (see Build My Rank is Dead).
Google Adwords and Facebook Advertising are the two biggest and most popular advertising networks online, so let's pit Google Ads versus Facebook Advertising to dissect and differentiate so you have a better idea of what the major differences between the two are.
First, it should be made very clear that Google Adwords is easily the most strict and stringent PPC network on the internet. Google is very strict about the kinds of offers and topics which you can promote and in terms of how you are promoting them. For example, while PPC is theoretically a great way to build a list, Google is very strict about how you use their network to build it.
This was a while ago but I have personal experience with this while I tried to build a list in a particular niche. I subsequently found out after being quickly suspended at the time that you cannot advertise something in your Adwords ad and have a squeeze page as your landing page so that they have to give their email address to get whatever information or product you mentioned in your ad, it has to be right there on your landing page.
This is why a lot of webmasters and advertisers prefer Facebook Advertising as they are much less strict and it's even easier to build a list, for example, simply by sending them over to your Facebook page (see how to make a page on Facebook) and including a simple sign up form there so that the Facebook user doesn't even have to leave the social network to see your landing page/offer. Incidentally this is a very powerful way to use Facebook advertising and get the lowest CPC (see my Facebook advertising strategy).
Next, in terms of finding and targeting your specific audience, Facebook Advertising boasts a lot more options than Google Adwords, Facebook Advertising enables you to target your audience by specific interests, so if someone explicitly mentions liking a certain something in their profile, their profile will likely trigger your ad at some point. You can also target by age, location, and much more (see my post on Facebook targeting for more info).

How does the cost differ between the two? The precise cost will depend on the overall quality score which is dependent upon your ad's copy and its relevance to your landing page and vice versa.
You can use a free keyword tool like Market Samurai or the Google Keyword Tool to get an idea of how much you can expect to pay per click on Adwords and check out my post on how much do Facebook ads cost for more information on costs on Facebook.
One final thing to keep in mind is that Facebook advertising obviously has its advantages which I've just covered, but people using it are not as much in the buying mindset as Google searchers who are actively searching for those terms rather than just passively listing them as likes.
You can make the argument from this that Adwords is better than Facebook for targeting people on the internet who are ready to make a purchase, but the bottom line is that you should of course test and possibly use both to diversify your PPC traffic and test the two against one another to form your own conclusions.