The term "bad links" can apply to a number of different types of links but they can all cause damage to your site in one way or another without your even realizing it most times. Let's take a look at some types of bad links you might not be thinking of which you would benefit from by getting rid of if possible.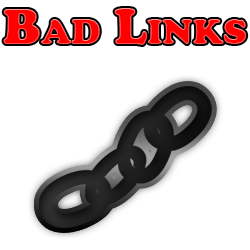 Bad Links
Dead Links
Dead links are bad links for a number of reasons. They make your site look sloppy and untended. They will annoy your readers. Spiders can't crawl them. Google even says in their webmaster guidelines (which according to them by following them will give you the best chances of ranking) that you should check for broken or dead links. You can use a free plugin like Broken Link Checker which will routinely check every backlink on your site to make sure that they are all functioning and intact. If when testing a link it cannot access the linked page it will notify you so that you can test it and delete it or look into it accordingly.
Link Profile
You might perform an entire audit of the links coming into your site. Use your Google webmaster tools or again a service like http://www.opensiteexplorer.org/ or http://ahrefs.com/ to look at your links. You can also learn things like what anchor text you have pointing to your site so that you can gauge the amount of over optimization you're dealing with.
You may have created links from particular sites and sources to your site in the past which seemed like good ideas at the time before the most recent Google updates were made but now you know that you're better off without them (links from Build My Rank or similar institutions come to mind).
Bad Incoming Links You Didn't Create
If someone ripped off one of your articles, possibly copied it word for word and published it on their spammy scammy site, Google might connect you with the spammy site because you're sharing the same content. It would especially create a problem if you included a link to somewhere else on your site.
While Ezine and similar article directories are very handy and powerful for getting valuable links to your site through article syndication, you have to take the good with the bad as a spammy site can just as easily grab your content and publish it on their site. It could be on a site which has nothing to do with your niche, even, just a massive spammy content aggregation site which took your article and kept your resource box intact so that you now have a link to your site from a site which Google doesn't look upon favorably and it's all through no fault of your own.
You might think about using CopyScape to see who has been republishing your content (with or without your permission, depending on where you've published it yourself). If a spammy site won't take down your content after you try contacting them, you can always contact Google and tell them that you're trying to get it removed and they can make a note to distance you from that site. Just a handful of bad links from the worst possible sources can bring you down, so if you come across something then whatever you can do will help.
You can also use CopyScape to see who has been publishing your content WITHOUT your resource box as sometimes there will be a site which you would like to have a link from but they take your content without giving you the link.