It's no secret that bloggers and webmasters who create lots of regular content get more visits to their sites than those who create less. People inherently like to learn new and helpful things, and if you get a reputation for producing multiple new posts each day then you have people checking in to your site perhaps multiple times a day. Also as everyone knows, search engines love sites which are frequently updated with new content, so you get rewarded with traffic from them, as well. A lot of marketers find it difficult to produce regular content, however. I have a degree in English and I still have trouble bringing myself to writing at times, so I rely on the following 7 blog writing tips to get it done.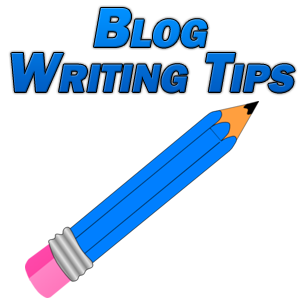 Blog Writing Tips
Plan Your Day in Advance
I used to hate planning my work schedule out in advance, but after committing to it for awhile I began to see my productivity increase. What especially works well for me is outlining the articles/posts I want to get done the next day but doing this the night before. This is because mornings historically have been my least productive times. My brain is still booting up and I have difficulty motivating myself to get started writing, much less having a plan about it.
But once I began doing a bit of prep work the night before, just picking out my keywords and writing out titles for the articles I want to write the next day, I already had that stepping stone and knew what I should be writing based on what took me 2 minutes the night before. There is no hesitation and I am able to dive right into it.
By the same token, set some very specific goals for yourself when it comes to producing content. Plan to write so many new posts or articles a day and prep them the night before so that when you get up the next morning you know exactly what you have to get done and it's all very structured.
It also helps some people to set aside a specific time frame each day which is solely designated to writing. Decide on your best possible time and say "10 to 11am is my writing time to get 5 articles done each day" and DO IT. Once you get into the habit you'll see your writing skills improving to where you'll be getting 6 and 7 articles done in the same span.
Don't Write Articles, Dictate Them
Here's one of my biggest blog writing tips. A few years ago I was working as an article writer for a couple of webmasters who needed staggering amounts of regular content. It paid well but I was literally starting to get carpel tunnel from the workload. Around this time I had the idea to give voice recognition software a try and not only did my wrists thank me but I immediately saw my output increase by well over 200%. 400 word articles which would take 10 minutes to write I quickly got down to 4 minutes.
I find it much simpler and more natural, not to mention faster, to speak my thoughts out loud as opposed to writing/typing them out.
My employers were a bit taken aback when I told them I could handle twice the workload which they had been giving me.
I quit my freelance writing career (at least for others) but I continue to use the voice recognition software when writing for my own sites. I even dictate content while driving around in my car (not that I condone it). This blog writing tips post is being "written" using it. I know – mind blown, right?
Search Relevant Forums/Message Boards/Etc. For New Content Ideas
You've probably heard this before but it really works for getting great ideas for new articles and posts which people actually want to read which should be of importance to you. Check out a forum in a niche relevant to yours and look at some of the questions people are asking. Pick a few and turn them into titles for your own writing, maybe without even changing a word. You know that you're writing about something which people are legitimately interested in, and you can even link back to your content in the thread which inspired your article to begin with if the board allows it to get some insanely targeted and free traffic.
Find a Template Which Works For You
If you really have to output tons of new posts or articles, I know a lot of writers who find success in relying on a few writing templates for themselves. These templates are very structured and consists of a number of paragraphs, each with their own purpose so that the writer can take a lot of different topics and just plug in what they need to where it goes. You can get really specific and use a # of tips article or a how to article. These basic formats make it much easier to structure your writing as you go along, making your writing flow more easily.
Write About What You Know
In terms of subjects, it's much easier to write about what you already know about and have a vested interest in. Little to no research is required so you can just write from your head in real time, plus you generally have more motivation when writing about something you're interested in and know about. For this reason I always recommend that if you are starting out in online marketing then you should stick to what you know, thus increasing the odds that you'll stick with it for long enough to see some fruits come from your efforts.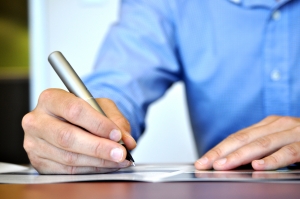 Write About What You DON'T Know
A large part of this site deals with how to do better SEO and everything that that means and covers. I don't know everything about search engine optimization (shocker), so sometimes if there is an aspect of SEO which I'm not fully familiar with then that's a golden opportunity for a new post. The same applies to any niche. Odds are if I'm not familiar with something, then there are countless others in the same boat.
Yes this takes a bit longer to write because there is much more research involved with it versus something you already know, but it's much more rewarding and challenges you, keeping you engaged and interested in what you are writing. Sometimes it ends up being more enjoyable to write about something which you are unfamiliar with as opposed to something you deal with on a daily basis.
Hire Out
Hiring someone else to produce content for you is a good idea if you have difficulty writing at the level which you want either in terms of quality or quantity. It's also a good choice if your English isn't particularly strong or isn't your first language but your site largely caters to an American audience.
There are plenty of freelance writer hubs out there where you'll find talented writers willing to work for reasonable rates which you can work out with them. Try testing someone out, first. Ask for one or two preliminary articles so that you can gauge their writing skills, turnaround time, and anything else you need to know. You might try a few writers at first, pick your favorite to stick with, then try a few others. Yep, you can split test ghostwriters, as well.
Have some additional blog writing tips? Why not chime in and share what helps you write content in the comments section?
Check out my sales pages copywriting tips for better sales page copy, as well!