Yesterday I made a post about how to make money from your blog. Today I'm going to address the reasons why you DON'T make money with your blog.
Why You Don't Make Money With Your Blog
You Don't Take it Seriously – By not taking blogging seriously you're in the wrong mindset and consequently will not make money with your blog. If you treat it as more of a fun hobby or thing which you are trying, you will not succeed.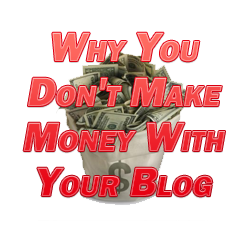 You Don't Spend Money On It – Getting started in blogging on the path to make money with your blog requires a financial investment, albeit a small one of at least registration and hosting. Sure you can get a free blog setup from WordPress.com and they'll host it on their site for you, all for free. But that comes with ad support, and you're really helping to promote the WordPress site rather than your own. It only costs $7.49 to register a domain each year if you go through this link and $1.99 for hosting each month if you go through this link.
In the same vein, bloggers who don't spend money are more likely to quit earlier because it's much easier to quit when you haven't made any kind of financial commitment whatsoever, which brings me to my next point.
You Don't Stick With It – Making money in affiliate marketing requires serious work and it's never more important to stick with it than it is in the early days when you're not making any money from it. In the past it was easy to throw up a review of a product and rank that page/site pretty quickly. It's a different game now where substance and multiple page sites perform the best.
You Don't Treat It Like a Business – Businesses require a serious commitment of time, money, and effort, and blogging is no exception. You have to treat blogging as a legitimate career to expect legitimate results. You have to look at blogging like something you want to make money from and you deserve to make money from. Once you get in that mindset, you can begin creating better content and getting on the path to success.