I don't usually talk about current events on this site, but given how far his reach extended and an impact which he had no only on technology but on society and culture, as well, I felt it important to share my respects for Steve Jobs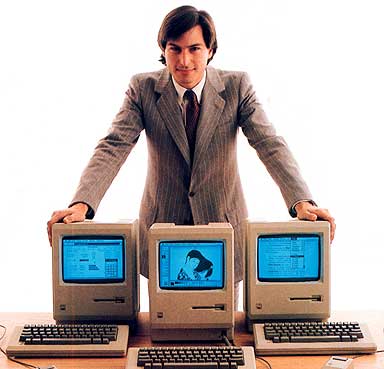 who passed away last night at the age of 56.
Unless you've been living under a rock (which Steve likely would've revolutionized if given the time), you're well aware of Steve Jobs' various contributions and accomplishments which he achieved over the course of his lifetime.
Steve Jobs' creative mind coupled with his witty salesmanship took him a very long way and the world is a much better place for it. I've included a video of Steve's Stanford Commencement Speech for 2005 which includes a number of words and stories worth taking to heart:
This news also made me want to re-watch one of my favorite TV movies of all time: "Pirates of Silicon Valley" which is a semi-humorous docudrama chronicling the rises of Steve Jobs/Apple and Bill Gates/Microsoft, respectively, and the competition which existed between the two in the 70's and 80's and into the 90's. Some of the best moments come in the penultimate scene when Steve (played by Noah Wyle) rightfully accuses Bill (played by Anthony Michael Hall) of stealing from Apple to create his Windows OS and the subsequent exchange which takes place.
As this was made in 1999, it would be very interesting for them to pick this up and revisit Apple's comeback and renaissance period of the last decade and the ongoing competition between the two.
Ultimately it's just a really interesting film which I recommend checking out if you have the time; you can watch the whole thing on YouTube and I've included part one right here:
A quote from Steve's commencement speech:
"Your work is going to fill a large part of your life, and the only way to be truly satisfied is to do what you believe is great work, and the only way to do great work is to love what you do.
If you haven't found it yet, keep looking, and don't settle."
RIP Steve Jobs 1955-2011